One of our favorite parts of taking a travel trailer trip is being able to cook in the outdoors. Sometimes, if it becomes rainy, we are forced to hide out under the awning, or even in the travel trailer itself. We like to have a backup indoors meal planned such as soup or lasagna in case of a rain storm or other limiting factor, but most of the time we make do.

What essentials do I need to stock my travel trailer kitchen?

To stock your kitchen you need, silverware, cast iron pan, chef knife, paring knife, silverware, plates, cups, a cutting board, mixing bowl, cookie sheet, bbq, thermometer, spatula, pot holder, can opener, bottle opener, napkins, dish towel, garbage bags, pot with lid, and much more.

Travel Trailer Kitchen Essential Guide

Many different categories of items are required to stock your travel trailer from Prep items, cooking items, eating items, and general items. These are all covered in our kitchen guide for RV's, campers, and travel trailers below.

Prep Work Accessories
In the prep section, we will cover items you will need to prep your food for cooking. As far as what you need, there may be items you need, as well as some you don't depending on the level of cooking you plan to do in your trailer. We like to have separate items for our trailer so we are not stealing items from our house and placing them in the trailer or vise versa. If an item makes its way to the trailer, we will buy another for our house as we never want to be left without a cooking item wherever we are.

Chef Knife
We take a good sharp chef knife as you can get hurt from a dull chef knife by applying too much pressure. Our favorite model has a good non slip handle and is highly rated all over the internet while being very cost effective.

Paring Knife
A paring knife is the only other type of knife you should need within your trailer for cooking. No, you do not need a fancy 20 piece knife block in your trailer, nor do you need it at your house either. Our favorite paring knife is small and comes with a protective cover so you can bring it in your backpack on a hike, or store it in a drawer with your other silverware and not worry about getting cut by an open blade.

Cutting Board
Our cutting board is collapsible and also acts as a strainer, as well as dish tub. This is a good space saver to combine all of these items in one. Using this as a dish tub can also save your grey water tank space by throwing dirty dish water outside in an appropriate area.
Mixing Bowls
If you plan on making muffins, cookies, pancakes, or doing any cooking from scratch, you will need a mixing bowl. A mixing bowl can also come in handy for other uses, such as serving dish. We like to use metal ones, as they are durable when they bump around from driving down the road. We store this in the oven along with the cookie sheet.
Measuring Cups
We always bring one measuring cup as well as a teaspoon. We are never doing intense cooking, but sometimes need to measure. A ¼ cup is a good one to carry as well as a teaspoon. A ¼ cup can be used multiple times if you need a cup, or half if you need an 1/8th. A teaspoon can also be eyed to a ¼ teaspoon, or used to make a tablespoon or more. We eyeball a lot while cooking, because if you are too precise while camping, it is no fun. If you want a full set for your trailer, this are a popular set.

Cooking Items

Pans
We may go overboard, but we always carry two pans when camping, one 12" cast iron pan, and another aluminum pan with a lid. Both serve their purpose, but I expect this year we will ditch the other pan and just bring the cast iron as it can be used in the oven to bake an item, on the stove, on the bbq, or even in the fire. If you need a lid, you can always wrap some aluminum foil around it and call it good.
Pots
We carry one pot with a lid, ours is nonstick for easy cleanup, but nonstick is not required. This comes in handy for cooking soup on a cold day that we want a quick lunch or dinner in the trailer. We also use it if we need to heat up some water.
Cookie Sheet
We purchased a small cookie sheet which fits in our oven and is perfect for making cookies, or toast on as well as placing under items we cook in the oven such as lasagna which may tend to drip. Having to clean burnt cheese or other items out of your oven when your camping is not something you will want to have to do. This is stored in the oven so we never forget to use it under a dish.
BBQ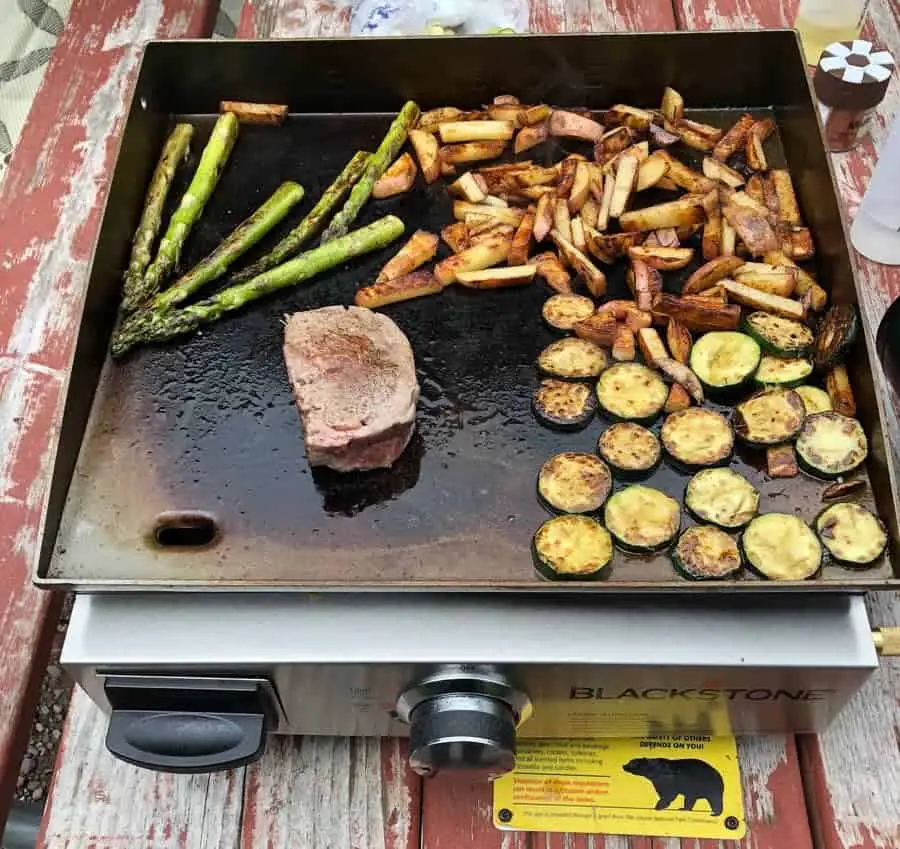 A bbq is almost a necessity while camping. We choose to purchase a griddle which is a bit more versatile than a bbq and is really easy to cook on (read all about why we like our griddle here), but we also like traditional bbq's. Sometimes we will pack our Weber Kettle Grill and some Charcoal to cook some nice burgers or sear a steak. If a normal bbq is what you are looking for, we like the Weber Q1200 which comes with electric start and can work off of small 1 pound propane bottles, large 20 pound propane bottles, as well as be hooked up to your travel trailer propane port with an adapter.
Instant Pot
Many campers say an Instant Pot is a must have. We personally have not used our Instant Pot in our travel trailer, but from using it at home, it would be wise to bring along on camping trips. With one item, you can sear, cook, boil, pressure cook, cook rice, or any other function of the Instant Pot. It can also act as a crock pot, so take along a frozen premade meal, throw it in, go on a hike, and when you return you will have a wonderful meal waiting for you. This is best when you have plug in power as we wouldn't want to run our generator for 8 hours to crock pot something, but next time we go to a campground with plug ins, we will try it out.

Thermometer
We always bring a thermometer on our travels to make sure our meat is done to the proper temperature. Getting sick from under cooked chicken is not something you want to happen when you are out on vacation in the middle of nowhere for several days so don't let it happen. We like this small popular thermometer.

Spatula
We use this popular all silicone spatula for cooking or mixing. This kit has a high melting point so won't melt when touching the cast iron pan or oven items.
Pot Holder
When removing items from the fire or the oven, you will want to make sure your hands are protected. We use this oven mitt as it has a high heat rating and is easy to clean.
Colander
If you ever make pasta or plan to rinse any fruit or vegetable, a colander will come in handy. We prefer this simple collapsible unit.
Tongs
When working with hot food or items, we use kitchen tongs to flip our steak, or our aluminum foiled up meal on the fire. These simple ones will do great and keep your fingers out of the heat.
Percolating Coffee Pot
While camping, we love to use the percolating coffee pot either on the fire or on the stove. This makes great coffee, even better than drip and gives you a sense of living the old fashioned way.
Drip Coffee Pot
We do also carry a drip coffee pot when we want to fire up the generator or have plugins. We prefer an automatic model so it automatically comes on at a set time. It is a great feeling to wake up and smell fresh coffee. This is our favorite model as it has a timer, and is a smaller compact size to fit in our limited kitchen space.

Other Items
We always keep some cooking oil, as well as aluminum foil in the trailer at all times. It is very handy to cook over the fire, so we just use aluminum foil to wrap our food in and set it on the hot coals. Ziploc bags come in handy when you want to store your leftovers or take a snack out on a hike.

Eating Accessories
Utensils
We use plastic utensils while camping, but we recently purchased new silverware for the house, so our trailer will get a nice upgrade this year. In addition to plastic or metal, we have also purchased some sporks which are a spoon, knife, and fork for when we are in need of utensils and only want to wash one item.

Plates
Typically when camping, we are not as green as we should be. When we are off grid, we use paper plates to save our water from having to wash too many dishes. Usually we bring one real plate for each of us if we want to eat a steak or something we have to cut. This dish set is very nice and will be in our trailer this season.

Steak Knives
When you do make a meal such as a burger, chicken, or steak, you will want a way to cut it. A pocket knife is not the best way to cut a steak, so we bring along a few steak knives do do this task. Bring some from home or add some of these to your Amazon cart and they will treat you well next time you need to cut a large chunk of meat.

Cups
We value treating our liquids better than the way we eat our food off of cheap paper. We have a tumbler each for drinking items such as water, soda, or beer. Additionally, we have a coffee mug to enjoy our hot cup of joe in the morning. We don't like to drink coffee out of the same mug as the coffee taste and smell is hard to get out of aluminum after years of use. Our mugs have have years of use out of our mugs, and expect years more. We also have these wine glass tumblers which are great if you have the storage.

Other Kitchen Essentials
Bottle Opener
Getting to your campground and finding out you have no way to open your favorite bottle of wine or bottle of soda can be a difficult realization. We prefer having a simple corkscrew instead of going campsite to campsite, make sure you have one stocked in your trailer at all times.
Can Opener
If you bring your just in case items such as soup or need to open items while cooking, make sure you have a way to open them. We love this basic unit as it is reliable and doesn't have all the bells and whistles to break.
Garbage Bags
When cooking or staying in your trailer, you tend to create a lot of trash. Make sure you have bags, we prefer the Kirkland household bags. A garbage can in your trailer can also be helpful.
Sink Strainer
A sink strainer is a must have to keep bits and pieces of food out of your grey tank. You want to keep your grey tank as clean as possible to avoid it from smelling. This simple sink strainer will fit in most travel trailer sinks.

Fridge Thermometer
We keep a refrigerator thermometer in our fridge to monitor temps. While traveling, we make sure our temps don't get too high to make sure our food is safe, as well as make sure we are not freezing out our food at the campsite.

Napkins / Paper Towels
We usually bring a stack of napkins out of a larger Costco pack as well as a roll or two of paper towels. You will use them, trust me. Especially if you have any kids, so don't forget.

Dish Towel
We bring a dish towel or two as well as a washcloth. Usually we use paper towels as a dish cloth with soap to wash items, but sometimes you need a real cloth to get off the crusty stuff.
Shelve Extenders
We added these shelving units to double our shelve space as many of our items are short and our cupboards have some height to them. These are stacking and can be turned upside down to take virtually no space if you do have taller items you need to store.

Ingredients
We keep many items in our trailer so at a moments notice we can be out and about without going hungry or not having salt. We keep some canned food and granola bars so we wont go hungry. Here is what we leave in our trailer:

Spices
We leave salt and pepper, as well as a camping spice set we found. This covers the majority of spices you will ever need and more while cooking in your travel trailer.
Food Items to Leave in the Trailer
We leave certain foods in the trailer so we have something to snack on if we have to leave quickly, or in case we have an impromptu family gathering. These foods don't spoil and can be used for a quick snack or meal.
Instant Mac and Cheese
Soup
Chili
Granola Bars
Bag of Chips
Salsa
Tuna or Chicken in a can
Honey
Peanut Butter
Graham Crackers
Marshmallows
Chocolate bars
Quick Camping Meals
While on the go, we have a few meals we like to prepare as we can hang out at camp while they are cooking as well as have lots of leftovers. In cold weather, we always pack a Costco lasagna to put in the oven. This not only helps heat the trailer, but puts warm food in our bellies. Our daughter LOVES lasagna, and this gives us some leftovers.

We will also pre chop items at home to make nachos which are fun to make at the campsite. Onions, olives, green onions, cheese, ground beef, chips, salsa, sour cream, jalapenos, and any other toppings are acceptable for this quick treat.

Conclusion
There are many more items you can keep in your trailer or that are must haves for your kitchen. You will figure out over time what you need and what you don't need. We always are prepared and have extra of everything just in case. Keep an eye out for sales on simple items at local stores in case you want to pick up another can opener or pan specifically for your travel trailer.

Get MORE out of The Savvy Campers Directly to your Inbox!
Be the first to be notified about FREE tips, hints, coupon codes, and email-exclusive information. All for FREE!