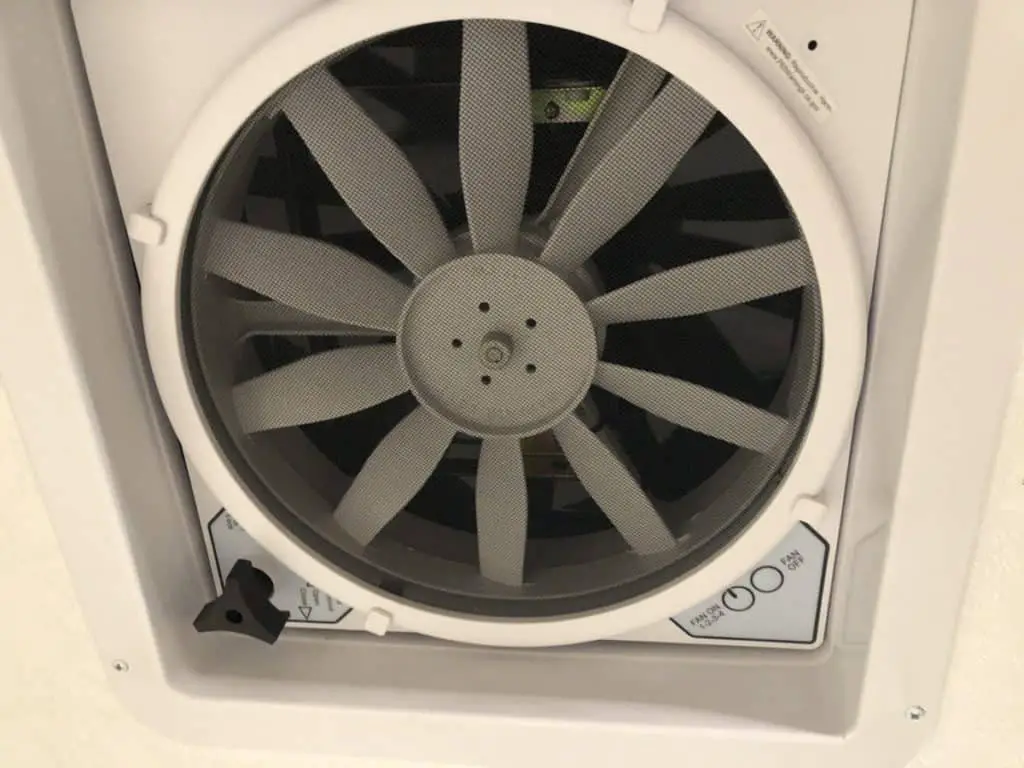 An aftermarket vent fan for your travel trailer or RV can give you much more airflow than your stock fan and also give you additional options such as a fan reverse function that will blow air into the coach either acting as a ceiling fan with the vent closed, or if you have two fans, one can run forward and one reverse to quickly exchange the airflow in your unit.
With our extensive research both online and hands-on with some of these products, we believe the MaxxFan 7500 to be the best vent fan on the market today.
Our Top Pick
The Maxxfan 7500 is perfect if your trailer is hot and you need to exchange the air with outside air, and quickly. It moves 900 cfm per minute. A 20′ trailer has about 1,000 cubic feet or less of air in it meaning that you can totally replace the stagnate hot air in your trailer in just a hair more than 1 minute of use.
Not only does this act as an exhaust fan, but it can be reversed to act as a ceiling fan to help move heat around in the winter or simply move air around. This unit has a remote control and electric lifting lid that has a rain cover lets you have fresh air in the rain. This unit will take some time and tools to install, but is well worth it.
Last update on 2023-11-01 / Affiliate links / Images from Amazon Product Advertising API
Runner Up
The is our runner up as it is also a great fan with similar features such as a remote control, reversible fan operation, automatic lid opening and closing, and has the availability to move lots of air like our top pick. There is one major difference that makes this our runner up option. This unit has a rain sensor that can close the lid if it rains. This stops your supply of fresh air in the rain and does not reopen. If you have pets in your unit and are gone, this can be a problem. There is an available rain shield, but it is another item to buy and install. This also requires some time to install just like our top pick.
Budget Pick
Our budget pick is the Hengs 90046 not only because it is less money, but it is also a direct drop in replacement. All you need to do is hook up power and you utilize both your existing vent fan cover and hardware. This makes our budget pick as it has a smaller 9″ blade, and only has manual operating controls. It does have both forward and reverse to use the fan how you would like.
Everything We Recommend
Top Pick
Maxx Air 00-07500K MaxxFan Deluxe with Remote - Smoke, Black
Budget Pick
Hengs Industiries - 90046-CR Vortex II Replacement Fan Kit (501.1099) , White
Top Pick
Maxx Air 00-07500K MaxxFan Deluxe with Remote - Smoke, Black
Budget Pick
Hengs Industiries - 90046-CR Vortex II Replacement Fan Kit (501.1099) , White
Last update on 2023-11-01 / Affiliate links / Images from Amazon Product Advertising API
Why you should trust us?
We have been campers for some time now and have done lots of research on moving air within our rig. This is especially important while boon docking in the summer without air conditioner. If you are ever in this position, you will thank us for getting an upgraded vent fan.
Who needs this product?
This product is best for campers both in the cold or warm season. This can help move colder outside air in your hot RV in the summer, act as a ceiling fan in the vent over your bed, as well as push down and help circulate hot air in the cooler months.
If you are a boondocker or have shore power, this is one of those must have upgrades that will make RV living much more comfortable.
How we picked?
The ability to move lots of air is one of our first factors of why we picked what we did. It can totally replace the air in your RV quickly. All of the models will move more air than your stock RV vent can so all will be at least an upgrade.
The rain shield keeps fresh air coming in. Only one model out of our top comes with a built in rain shield, but all have the availability to have an aftermarket rain shield installed. The rain shield allows you to use your vent fan in the rain. This is especially handy if you have pets that are left in your RV, or are stuck inside in a rain storm.
The remote control is truly a fantastic feature. You can quickly adjust the settings to make it cooler at the touch of a button. On our top pick, there is a thermostat that can adjust speed and airflow all by itself with no need for user input.
The automatic closing feature. With the push of a button you can open and close the vent on your RV, if you are like me, having the ability to do this while in your bed at night and adjust the temperature if you are too hot or to cold is a must have. This is also great if it starts to rain so you can be lazy and do it with one click.
How we tested it?
Our Pick:
We picked the MaxxFan 7500 as our top pick for several reasons. Not only does the 7500 have much more settings, but it comes with 10 speeds in either forward or reverse. Couple this with their 12″ 10 blade fan, and you are moving some air.
One great fearture of this model is that it allows ypou to run with the lid closed and push air down just like a ceiling fan. This can get air moving either in the summer to provide blowing air when you are sleeping, but in the winter can also help circulate the warm air down to your living space.
The vent cover is held up with two lifting arms unlike the single that your stock vent has so stay goodbye to your vent flapping around in the wind.
This model comes with a built in rain cover that allows you to get fresh air without ruining your RV's interior due to water damage. There is a thermostat to adjust the fan's settings to provide you with constant quality temperatures.
The full unit is warrantied for 2 years and the vent lid has a lifetime warranty.
Last update on 2023-11-01 / Affiliate links / Images from Amazon Product Advertising API
Runner Up:
The made our runner up pick due to it requiring a separate rain cover, and due to a small price difference.
This model has 14 manual or adjustable variable speeds to get the exact airflow that is desired. There is a reverse switch to use the unit to either draw air in or suck it out, or as a ceiling fan as with our top pick model.
This unit differs instead of a full rain cover, it has a rain sensor that can close the lid if wet. This is a plus, however, if you have pets or want airflow when it is raining, you will have to invest in the optional rain cover.
The 7350 has a wireless remote control and thermostat option to automatically regulate temperatures inside the vehicle.
The Fan-Tastic fan comes with a 7 year limited warranty. The first 2 years are a limited warranty including parts, labor, and freight, and the last 5 years are parts only.
Overall, this is similar to our top pick with the exception of the rain cover which we like on our top pick.
Budget Pick:
Our budget pick, the Hengs 90046 is truly a plug and play fan. Our top pick and runner up will requrie you to go on the roof and use sealant to seal your new fan, this model can be installed from inside the RV very quickly.
This fan has a 9″ blade and has 5 speeds, 3 in forward and 2 in reverse. Total air movement is listed on their site at 188 cfm vs the 900 the MaxxFan puts out. This fan does put off a bit more noise than our top picks, but for the cost, it is very cost effective.
This model does not have a new lid that can be automatically adjusted or any rain prevention materials.
Get MORE out of The Savvy Campers Directly to your Inbox!
Be the first to be notified about FREE tips, hints, coupon codes, and email-exclusive information. All for FREE!