There are thousands of accessories you can get for your RV for camping or living in if you are a full timer. This is our compilation of our favorite accessories that you most likely will need if you are new to RV'ing or a pro. All of the items below will make great gifts for anyone you know who has a RV or Travel Trailer.
Power Accessories
Lithium RV Batteries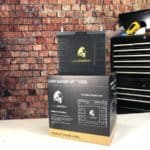 Upgrading the batteries in your RV to Lithium will give you better capacity as well as a lot less maintenance. For example, our old batteries were dual 90 amp hour (AH) lead acid batteries. In total we had 180AH, but for a lead acid, you can only use 50% giving us 90 amp hours of usable battery.
We have upgraded to these Lion Energy lithium batteries and they give us far greater capacity and are half the weight. They are 105ah batteries which give us 210ah. Being lithium, you can use 100% of the battery, so we effectively have 210 amp-hours or over double the capacity!
The best part about lithium is that you don't have to check water levels, keep them trickle charged over winter, or really do any maintenance at all.
We have a good relationship with Lion Energy and they have given us a special discount. Use the code "savvycampers" to get a 15% off on your purchase.
Shore Power Cord
Most travel trailers come with a shore power cable, but yours may have got damaged, or maybe you got a used trailer without one. We prefer this type which has a light to signal when the cord is live. We like a 50′ model to ensure you will have power while away from home or away from a power pole at the campsite.
Generator
A generator is not a must have if you go from serviced campsite to serviced campsite, it is pretty much a must have if you every go off grid or to a state campsite or other land without power. A generator will ensure you have power to keep your lights on as well as items charged, or air and heat running in the day and night. Our favorite has remote start so on a cold morning if you want coffee, you don't have to leave your trailer in order to start the pot. It also is dual fuel so can run directly off of your propane tanks if necessary. To learn more about our favorite generators, read more from our article here.
Gas Can
If you are bringing a generator along, you will indeed need extra fuel. We bring a 5 gallon tank along with us to keep our generator full. In a pinch, we can also use it in our truck to give us a few extra miles until the gas station if we are really out there.
Coaxial Cable
If you are in a campsite, you may want to watch TV. At many RV parks, they include cable with your fee. Make sure to bring a coax cable in order to get all of the amenities you had pad for. This is handy to watch the news at night or even keep your kids entertained.
Solar Kit
We installed a solar kit on our RV to keep our batteries topped off while remote camping and it has proved itself to us. No longer do we have to run our generator every day for several hours just to keep our batteries topped off. We have a 200 watt kit, but read our article about how much solar do you need to figure out what size kit will work for you.
Portable Solar Panel
A portable solar panel can be easily added if you don't want to spend the time to install a full kit. These are typically 100 watts and very portable. Your trailer typically will have a plug on the side if it is solar ready, or if not, it is two wires to hook this up to your battery to give you supplemental power.
Surge Protector
If you have seen any other articles on our site, you will realize that a surge protector is a must have. To find out why, read more from our article on surge protectors, or to skip it and purchase, if you have a 30 amp or 50 amp these are the best. If you want a full electrical management system, a 30 amp EMS or 50 amp EMS will suit you well. Learn more about surge protectors here.
Indoor RV Accessories
Sheets for Beds
One of the first items you will need in your RV is sheets for your bed. For our bed, we have a RV queen and use normal queen sheets. They are a little big, but having larger sheets is wonderful when you get to curl up at night especially if it is cold. There is no need to go expensive, and make sure to get a color that will hide any dirt. Our favorite sheets are these, they are cotton and breathable in the summer unlike some of the microfiber sheets. We also use them at home as well.
RV Mattress
There is nothing worse than the mattress that came with your RV. Ours went flat only after about 15 nights. If you are looking to sleep in the lap of luxury, try a new mattress. This cooling mattress is made shorter to fit in the place of an RV queen. If you have some extra space, you may be able to fit a normal queen mattress in place of your smaller one. Be sure to measure first!
Memory Foam Mattress Pad
If you are not interest in replacing your mattress, you can get a memory foam mattress topper that will provide a better nights rest at a fraction of the price of a new mattress.
First Aid Kit
A first aid kit is a must have for any emergencies that can happen while on the road or while you are at the campsite. This kit will handle most tasks you can perform yourself on the road.
Hamper
We struggle with keeping the inside of our trailer organized, having a hamper for dirty clothes allows us to keep them all in one spot and allowing us to take one bag to the laundry so we don;t have to guess what is clean or dirty. Having the ability to fold it up and store it flat makes sure you keep your storage area uncluttered.
Vent Insulation
Vent insulation is great in the winter and summer, or if you want to sleep in. These will fit in your skylight vents and keep heat or a/c in as your vents have zero insulation factor. They will block light as well so if you are a late sleeper, these are invaluable.
Packable Duffle Bag
These bags are great as they don't take up space, but allow you to have a bag when you need to pack items up to stay in a hotel or to go to the showers. This is our favorite model and we have a few to hold our random items when we pack in and out.
Water System Accessories
Water Hose
One of the first things you will need is a hose to either hook up to city water or to fill your water tank. You will want to make sure this is drinking water safe and to never mix it with a hose used to flush your black tank or hose at your house. We prefer a collapsible hose as it is easy to store.
Water Pressure Regulator
A water pressure regulator is a must have when hooking up to city water. If you don't ever hook up to city water at a campsite, then you would not need one. If you are hooked up to water without one, you could burst your plumbing if the water pressure at the RV park is too high. We prefer an adjustable regulator to allow you to fine tune your water pressure especially if you use a water filter. If you have a water filter with a non adjustable regulator, you may have too little water pressure.
Water Filter
Water filters are cheap insurance to ensure you are filling your water tanks with the best quality water. They can also be used on city water to make sure to filter out any imperfections that may be in the water at a campground. We like these filters over built in as you don't have to install them in your trailer and they are just plug and play.
Water Tank Filler Valve
Having a filler valve will assist you when filling the fresh water on your RV. This will give you a visual to know when the tank is full as well as a valve to shut off water so you do not squirt it all over the place and overflow.
Water Bandit
A water bandit is a device that slides over a faucet without threads or damaged threads to allow you to hook up a hose and fill your RV. This water bandit has saved us many times at campsites without proper hose bibs on their water system.
90 Degree Hookup
A 90 degree hose adapter will allow you to hook a hose up to the city water connection on your RV without straining the hose or connector. This allows the hose to go straight down eliminating any kinks.
Hose Y
A hose y adapter will allow you to hook two hoses to a single hose spigot. This comes in handy if you are hooked up to city water and want to wash your car, or if there is only a single hose outlet for two RV's next to each other.
Sewer System
Dump Hose
A dump hose is a necessity to be able to dump your RV black and grey tank. Make sure to get one with good connections so you don't have an accident and regret spending ten more dollars. You will want 20 feet just in case the sewer dump is a bit further away than your 10′ hose will make it. Most of the time you will only need 10′, but having the extra 10′ will be a life saver in some situations.
Toilet Chemical
Your black tank as well as grey tank will need to have toilet chemical added periodically to keep them from smelling and to keep good enzymes in there to break down items flushed. We have had good luck with these tablets and have never had a smelly problem.
Toilet Bowl Brush
A simple toilet bowl brush is needed as the RV water sometimes cannot clean the bowl, or if you are boondocking, you want to preserve as much water as possible. We prefer cheap disposable brushes we can buy new every year.
Disposable Gloves
Disposable Gloves come in handy for lots of tasks from handling raw meat, changing a tire, and dumping your black tank. Make sure you have a box on board at all times.
Toilet Paper
We have found that RV specific toilet paper is not necessary, and we make sure to use our black tank flush frequently to make sure there is nothing lingering around. You will want to make sure your toilet paper is septic and sewer safe, but you can still buy the good stuff!
Clear Sewer Connector
Not that you want to be watching everything that comes out of your black tank, but you do want to know when you are finished dumping and when the water is running out sparkling clean. This clear elbow will help keep your black tank in top condition.
Sewer Tank Tote
A sewer tank tote will allow you to dump your black or grey tank without having to move your RV. This will save lots of time from packing up, hitching, dumping, driving, unhitching, and setting up camp again. These are available in multiple sizes, but a 28 gallon is a good overall size.
Kitchen
Refrigerator Bars
Having refrigerator bars in your RV fridge will allow you to keep items organized and keep them from falling over and spilling when driving your RV or trailer from site to site. These units are extendable and having one for each shelf is handy.
Refrigerator Fan
A refrigerator fan is truly a must have. It eliminates hot and cold spots within your refrigerator and allows your refrigerator to cool down after being off in record speed. With the refrigerator fan running, it takes half the time to cool a refrigerator, even when it is 80 degrees!
Cabinet Liner
Cabinet Liners will do two things, first prevent spills from getting allover your cabinets and allowing you to easily remove and wash, second will help keep items stored in your cabinets safe while traveling. It is the worst thing when you open the cabinet at a campsite and stuff falls down. These liners work great and are easy to cut to the shape of your drawers or cabinets.
Instant Pot
Many campers can agree, an Instant Pot is a very versatile cooking device and one of the best items you can take for cooking on a camping trip. Not only can it pressure cook, but it can cook rice, steam, make yogurt, saute, slow cook, as well as keep items warm. This is handy at tailgating events as well as camping with the family.
Collapsible Storage Prep Bowls
Not only can you use these bowls for mixing, but you can use these for storage in the fridge or serving at the campsite. These bowls are a must for any food preparation or storage.
Folding Cutting Board
Not only can you use this as a cutting board, but you can use it as a dish basin to wash dishes, you can also use it as a colander in order to drain pasta or wash vegetables.
Coffee Maker
A coffee maker can be a the best part of the morning. We have a programmable coffee maker which allows us to smell the roasting coffee at 6 AM to aide our wake up process while camping. Make sure you find one with a metal carafe so it doesn't shatter while driving around.
Cast Iron Pan
A cast iron skillet is truly the one pot wonder when it comes to versatile cooking devices you can have while camping. You can cook over a stove, in the oven, or even over the fire. This can be used to bake cookies or fry burgers. Don't get too fancy with a griddle unit, just a plain cast iron. Make sure to season it properly before your first outing.
Pot
A pot will come in handy when boiling water, cooking soup, or using as a mixing bowl in a pinch. Make sure to get one with a lid so you can also use it to drain water. We like nonstick as well while camping to ease the cleanup process.
Chef Knife
A good chefs knife will be one of the two knives you need in your trailer. Having a solid sharp 8″ chefs knife will solve all of your cutting needs. This model has consistently been the number one pick of many chefs including Americas Test Kitchen.
Paring Knife
A paring knife is the only other knife you will need in your RV. This will do the detailed cutting while the chefs knife does the big stuff.
Magnetic Strip
Mount this magnetic strip on the inside of one of your upper cabinets and you can attach your knives to keep them handy, but out of the way in drawers so you don't accidentally cut yourself.
Insulated Beverage Cups
We like to have our coffee hot and keep our beer or other drinks cold. We have a few coffee cups as well as a few wine tumblers. These are awesome for nighttime campground walks, or your morning coffee.
BBQ
Smelling steaks being cooked outside on the grill can be one of the best camping memories. We prefer this easy to use Weber that doesn't have all the bells and whistles to go wrong.
Griddle
We have a griddle and believe it is the best of both worlds. We can both cook steaks and burgers like a BBQ, but can also cook pancakes or onions which cannot be done on a BBQ. We like this small 17″ model, or the larger 22″ model. as with the BBQ, if you want to hook it up to your trailers on board propane, this gas line will do. We also have this accessory package as well as carrying bag.
Magnetic Spice Holders
We have a few of these for salt, pepper, and one for whatever spice you use a lot. These store great on our range hood so are always handy. They are clear to allow you a visual to let you know when you need to fill them up again.
Parking and Leveling Accessories
Leveling Blocks
Leveling blocks are needed in your RV in case you park on an unlevel surface. These blocks fit under the tires to life one side of your RV. They are our favorite as they have a 10 year warranty. Read more about leveling blocks from our article here.
Andersen Levelers
In the place of leveling blocks, Andersen levelers are another great option. These are a ramp style that will lift one side of your RV to provide you a level trailer. Learn more about Leveling blocks and which models we like here.
Level
A level is important to check to see if your trailer is level. We use a 2 foot model as to save some space in our storage.
LevelMate Pro
If you don't want to bring a level and you live in the digital age, the LevelMate Pro will tell you if you are level via its Bluetooth app on your phone. This does not need service on your phone to operate. This is handy if you are a one man show, or you have a wife who has to run after the kids.
Chocks
Wheel chocks are necessary to keep your trailer from rolling around when unhitched. We prefer a nice rubber chock vs a plastic chock. Make sure to get one for each wheel.
X-Chocks
We utilize the X-Chocks in addition to our regular chocks as they stop sway and wobble while you walk around the trailer. Make sure to lock them up with this lock set. If you are having issues stabilizing your trailer while parked, learn more about how to keep it stable from our article.
Socket and Drill
A socket designed to work with your drill to lower your leveling jacks will save lots of time and arm work.
Towing Accessories
Weight Distribution Hitch
A good weight distribution hitch is a must have to reduce sway and help distribute weight back to your front wheels. Our favorite is this chain style weight distribution hitch, but we also like this bar style hitch as well. To learn more about weight distribution hitches check out our post here.
Hitch Lock
The best way to keep your expensive weight distribution hitch in your possession is to lock it up.
Tongue Lock
A tongue lock will keep your trailer in good hands and reduce the ability of someone towing it away. If you are needing more information of locking your RV or trailer, read our article about how to keep your trailer safe here.
Interior Safe
A good interior safe can help secure your valuables such as a laptop computer, ipad, passports, cameras, cash, or other expensive items. This Tuffy product fits in our wardrobe perfectly and provides a greater amount of security than others we have seen on the market. The latch is very secure and would be hard to break open due to their upgraded latching hardware. Here is a quick walkthrough of ours:
Tire Pressure Monitoring System
Having a blowout while on the road can be one of the worst things that can happen, especially if you are on the freeway. Taking care of your tires is one of the most important things you can do to your trailer for your safety and your families. Keeping track of pressure and temperature while on the road in the summer is very important. You will want to check tire pressure before you leave as well as while you are on your drive to make sure they don't get too high. Having a tire pressure monitoring system can give you real time data on your pressure and on some systems temps. This can save you from a nasty blowout while on the road. This system is perfect if you have dual axles, as well as this same system is available for a single axle system.
RV GPS
Obtaining an RV specific GPS can both save you time as well as the hectic arguing with your spouse or family. Just as an example, we have driven to a campsite every year for over ten years involving either a curvy cutoff road you cannot tow a trailer on, or another curvy steep road that has multiple hairpin turns and steep grades. When we actually followed a RV GPS, we found another road that takes you through the farmland to the same destination, but is straight. The scenery is not as good, but you can get there a lot safer and quicker. We would not have known about the road without a RV GPS as our cell phones do not have signal to navigate us or research roads around the area.
Another benefit of GPS systems for RV's is that you can enter your height and weight and it will detour you away from low hanging bridges or areas with weight limits. This is a must have for traveling to uncharted areas.
Bathroom
Shower Head
Upgrading your shower head in the bathroom can not only provide you with a better shower with more pressure, but actually conserve water. Our favorite shower head combines water with air to give you more pressure to help blast soap and dirt off while using less water than the shower head our RV came with. This head is simple to install and is a must have upgrade. To learn more about conserving water read our article to find all the tips and tricks.
Command Hooks
These hooks can be used on the back of a door or in the shower to hang towels, wet clothes, or just about anything else. They are easy to use and can be removed without causing damage. We purchased a multi pack to use all around the trailer.
Organization
Hanging Organizer
Closets in RV's and trailers can be awkward. Ours has hanging areas for about 8 shirts or pants, then you are expected to throw the rest of your items on the floor of the closet. We have one closet in which we use for hanging items, and one that we hang this organizer to help separate our socks, shirts, pants, etc.
Packing Cubes
If you do not need hanging area, packing cubes are awesome. We purchased some and not only use them in our trailer, but use them around the house to keep items together. These cubes can store all of your pants, shorts, socks, underwear and keep them neat and tidy and give you the ability to find something.
Higher Hangers
If you do need to hang items, these hangers are a must. They will hang items higher than normal hangers giving you more room for packing cubes or a bag under your items.
Vacuum
We like bringing a battery powered vacuum with us as even though we have an entry mat, we still drag lots of dirt, rocks, and dust in with us. My daughter loves to play with her toys on the floor and without a vacuum it would be difficult to keep clean. Our full buyers guide for RV vacuums is located here.
Broom
A broom and dustpan comes in handy not only to clean the inside of the trailer, but to sweep your outdoor mat, steps, bed of your truck, and anywhere your vacuum cannot get.
Puck Lights
Puck lights are awesome little inventions as they give you the ability to add light to areas such as a closet, basement storage, truck bed, reading light, night light, etc. Our favorites come with a remote so they can be turned off from the bed. We use ours as night and reading lights to conserve battery power when we are boondocking.
Tools
Replacement Fuses
You never know when you will need to replace a fuse, and if you are out in the middle of nowhere you may not want to drive a few hours to find a replacement so you can pump water or use your heater. Make sure to carry spares for every size your trailer uses.
Hatchet
If you are in the outdoors you can expect to have a campfire at some point. An axe is necessary to chop wood or cut kindling. If you are looking for a camp axe that will last for generations, I have this model and love it. After a year and a half it still has retained a sharp edge. If you are looking to get the job done, than here is another less expensive top hatchet. If you have a lot of firewood chopping to do and don't want to bring a full blown axe, than this model will be your friend.
Folding Saw
If there is a need to cut branches around camp or items to fit in the firepit, a folding saw can be handy. We have this small model which fits in our backpack when we go out.
Hammer
A hammer comes in handy when you need to pound down a stake, post, or have to give some mechanical persuasion to an item on the trailer or around camp. We take a cheap claw hammer in our tool kit.
Tool Set
A larger tool set is needed if you have a travel trailer or RV. Here is a more in depth guide of items that we keep in ours which are not listed on this list.
Flashlight
A flashlight is something that everyone should keep in their car as well as their trailer. We have a few of these small ones and love them. For walking around at night we have this model which provides a bit more light. We prefer these rechargeable batteries and keep a spare battery around.
Spotlight
A spotlight is great if you are taking a night walk, or want to look for animals up on a ridge. These are great if you are changing a tire at night or need to signal for help. We have this rechargeable model and have had no problems over the years.
Air Compressor
An air compressor like this one is important to keep your tow vehicle tires at proper levels as well as your trailer tires. This comes in handy if you are pulling your trailer out of storage and one tire is flat or has low air from the winter, or if you ran over a thorn and need to patch and get some air to get to a tire shop.
Tire Pressure Gauge
Along with a compressor, you will want to check the air in your tires before every trip. Having proper inflation in your tires can mean the difference between a good day, and a bad day with a blowout on the highway.
Torque Wrench
When you are checking the air in your tires, re torquing the lug nuts is also important on each trip. Make sure to torque in a star pattern. We have found this model to have enough torque to also install a weight distribution hitch as the ball mount may require high amounts of torque.
Lithium Jump Starter
Getting stuck in the wilderness with a dead battery can suck and make for a bad travel day. We keep a jump starter in our vehicle at all times in case we leave our trailer plugged in to the tow vehicle and its drained or if the battery just gave out. It also comes in handy when needing to charge a cellphone or camera.
Roof Gutter Extenders
To keep water further away from your RV, these little extenders work wonders. Our gutters drip water down, and sometimes down the side of the RV. These keep water out just enough to not have that happen.
Roof Repair Tape
We always travel with some roof repair tape because you never know if you will hit a low hanging branch, or if you will find a leak in your roof. I suggest you travel with some too.
Dehumidifier
If we camp in the spring or fall, or anytime in the rain, this comes in handy to absorb up the condensation from our breathing if the trailer is shut up to keep heat in. We also throw it in the trailer during the winter to keep condensation down.
Outdoor
Lantern
A lantern is great for the campsite at night in order to play games or sit by the fire. We have a few battery power lanterns like these that come in handy and are very affordable.
Camping Chairs
Camp chairs are a must while at the campsite, we have upgraded to these popular backpacking chairs as they are one of the most comfortable chairs we have sat in, as well as to make our storage compartment happy. They even make mini ones for your kids too (our daughter is obsessed with hers).
Roasting Sticks
No camping trip is complete without roasting marshmallows. You can cook other items such as hot dogs as well. We like these extendable ones as they pack nicely and there is plenty to go around with this multi pack.
Outdoor Mat
An outdoor mat is a MUST HAVE. this will keep most of the dirt and rocks out of the trailer. If it is raining, it acts as a barrier to keep you off of the mud and wet dirt. We have this large mat to put the picnic table and have our daughter play on.
Camping Table
An extra table at the campsite is a huge benefit in addition to a picnic table if there is one available. Having an extra prep space, a spot to play games, or even a space to set items on is helpful at camp. We like this folding aluminum model as it will pack very small.
Hammock
We never leave home without our hammocks. Even when we go on a hike we lug these around to have somewhere to rest at the end of a long hike. We have found these hammocks to be easy to set up and comfortable. Make sure to purchase tree straps as well for easy installation.
Picnic Table Cover
A plastic cover comes in handy if the picnic table is dirty or sticky. These are cheap and replaceable as they rip or get dirty.
Gas Fire Pit
A gas fire pit comes in handy in the summer if there is a wood fire ban. In the northwest, when fire season is bad, they ban wood fires even in fire pits. They do allow propane gas fires, such as this model here. It is also handy when you don't want to take the time to build a fire and cook a few marshmallows.
Bike Rack
If you are looking to take your bikes on your camping trip, sometimes you may not have a spot to put them. This model mounts on the tongue of your trailer and has space for 3 bikes. Read more about how to bring your bikes along on your camping trip here.
Tire Covers
Tire covers save the rubber from UV rays from the sun. UV rays can break down the rubber and cause your tires to crack. Covers will also keep ice off of your tires in the winter. We prefer individual tire covers like these instead of covers that cover both wheels together.
Canopy
Having a shade canopy to provide extra shade in the summer allows you to extend your outside living. These canopies like our favorite here also are invaluable when it is raining. You can set it up over your picnic table and still eat outside.
Awning Shade
Depending on where the sun is, an awning shade can be very helpful to give your family extra shade. This will also keep your trailer cooler in the sun.
Awning Lights
Awning lights are fun while camping in the summer having out at night. You will never miss which trailer is yours while walking around camp if you have these attached to your awning. These run off of batteries and are easy to install with binder clips.
Bluetooth Speaker
A bluetooth speaker allows you to bring the party to the outdoors. Just kidding, don't be too loud as many people camp for the peace and quiet, but it is nice to have some music while camping. We like this model as it is water proof and provides good sound. If you don't need your speaker to be waterproof, this model provides excellent sound as well.
Fire Pit
Some campgrounds may not have a fire pit, and it is nice to have a good fire in a dedicated fire pit to cook on or roast marshmallows.
Clothes Line
If you are out swimming or washing clothes, a clothes line is a great help to aid in drying your wet items. We like this simple clothes line to dry our towels as well as wet clothes.
Electronics
WiFi Range Extender
If internet is important to you while you are on your camping trip, this range extender will help you receive WiFi signals in your trailer while far away from the router.
Cell Phone Range Extender
Same as the WiFi Range Extender, if you are camping outside of a populated area, this will allow you to get cell service in case of an emergency or just to call your mom. We like this model to help get service in the middle of nowhere.
Roadlink Unlimited WiFi
If you would like a hotspot with unlimited data available, look no further. Try this out and get internet in your trailer. This is perfect for weekend warriors who still want data, or for full timers who may need a connection to work.
Walkie Talkies
We have found walkie talkies to be very valuable. While one of us is at camp and another is out, it allows us to communicate in areas where we do not have service. We have this pair which has weather channels to keep up to date in case of a big storm and is waterproof. If you are going on a hike and some rangers at your campsite have walkie talkies, it may be a good idea to find out what channel they are on to contact them if you have an emergency.
Electric Heater
An electric heater can be helpful in the winter to supplement your heater or to use instead of your propane heat. We leave our electric heater on and usually can just use it and not our propane heater if we have shore power.
Maxxair MaxxFan
A MaxxFan can be very helpful cooling down your RV in the heat. These fans move a lot of air unlike the stock fan your trailer comes with. This model has remotes as well as temp sensors that can run the fan to a set point. The rain guard makes it available for use in the rain as well.
Roku
A Roku is fun to have in case you have a rainy day and still have internet. We have used ours on some occasions while it rained for several days straight. It was a must have for that trip.
Conclusion
There are hundreds of accessories you can get for your RV or travel trailer, but these are our most used and favorite ones. If you have any accessories you would suggest, leave a comment below. Thanks, and happy camping!
Get MORE out of The Savvy Campers Directly to your Inbox!
Be the first to be notified about FREE tips, hints, coupon codes, and email-exclusive information. All for FREE!