There is nothing better than hitting the open road, ready for an adventure with your travel trailer. These homes-on-wheels can really give you the freedom to go anywhere and do anything while on vacation. However, accidents can happen on the road, and just like with a car, you may wonder about insuring your travel trailer. Do you really need travel trailer insurance?
The need for travel trailer insurance varies by state, as you are hauling your travel trailer, then insurance is not necessarily required as it is may be covered by your vehicle's insurance. However, it's a good idea to insure these as it provides protection in the event of an incident or theft.
The word "travel trailer" can inspire a lot of different images when just said out loud. It's essential to define the exact system when discussing the topic to identify the need and eligibility of RV insurance. To that effect, what types of travel trailers can you insure? What can you expect when insuring your home on wheels? Read on to learn more about insuring your travel trailer.
What Types of Travel Trailers Can I Insure?
Even if you are just shopping around for a camping trailer, you know there are a ton of different variations and styles that you can choose from. Did you know that this can also come into play when you are going to insure your travel trailer? Most people are not aware of this, leading to some confusion when filling out the paperwork.
Knowing the type of travel trailer or RV you have as well as its classification can help immensely when finally sitting down with an insurance agent. There are typically three different classifications for recreational vehicles to be aware of:
Class A: Largest class. Strong, durable, and drivable vehicles. 
Class B: Sort of like a large van, drivable vehicle. Smaller than Class A recreation vehicles but contain slideout sections for more living space when you park.
Class C: Over-cab extensions, and drivable, usually longer than a Class B
Travel trailers, 5th wheels, tent trailers, and others fit in the Towable category.
Conventional Trailer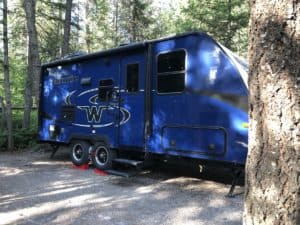 A conventional trailer is your all-around typical travel trailer. In fact, when discussing travel trailers with your insurance agent, a conventional trailer is what they are most likely going to call to mind. It is a larger mounted trailer that has all of your living necessities, such as a bathroom, dining, sleeping area-basically, it is a towable RV.
Mounted Camper
Much like a travel trailer or conventional trailer, a mounted camper is an extension that contains all of your living necessities and is larger in scale. However, the big difference is that it is mounted on your truck. This means it is not being towed or hauled per se, but is a full-on extension of your vehicle.
Hauler
Also known as a toy hauler or a horse trailer, haulers are not meant to pull people around in. Typically, these are used for livestock, other recreational vehicles, or cargo that can not fit in a vehicle. Haulers are the larger form of this type of trailer and, while not recreational all the time, can be used to tow recreational gear. Some haulers are part hauler and part travel trailer. This allows you to bring your toys or horses as well as camp within.
Cargo Trailer
A cargo trailer or utility trailer is a smaller version of the hauler. While the hauler can tow multiple horses, ATVs, and more, this is usually meant for, at most, one horse. This means that there is considerably less capacity for carrying goods between locations. Some users convert their cargo trailer to a living area and use it to camp.
Pop-Up Tents
Pop-Up Tents are collapsible trailer systems that can move in a compact size from location to location. Once stationary, they unfold when opened, providing a tent and sleeping area for anyone to use! There is one big drawback, however, as these systems do not have as private restrooms.
Fifth Wheels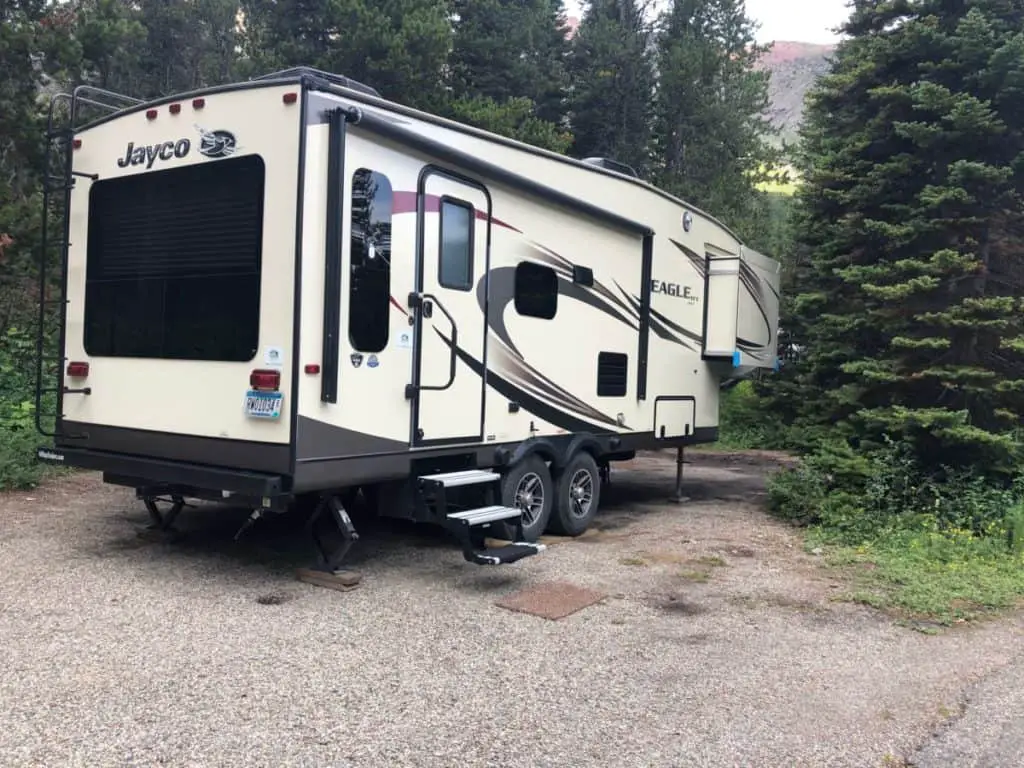 When you think of the top-of-the-line RV living space, you are typically thinking of a fifth wheel. So named because of the way they mount on a truck, these turn your standard pickup into a camping machine. The large overhang gives additional living space, and it comes with all the living amenities you'll need.
What Does Travel Trailer Insurance Cover?
In life, there are already so many different types of insurance you have to keep tabs on. Each has its own coverage level and ways they help you in your time of need. You want to make sure your RV coverage can do the same if you have an accident while you are on vacation.
There is no set package of definitive RV insurance, which is both a blessing and a curse. While you can customize your travel trailer insurance to fit your needs, you do not have a baseline to create an estimate until you are speaking with a professional. 
However, there are a few basics that most insurances cover:
Collision
Comprehensive
Liability
You can even add on some personal item protection. While, in most cases, many settle for the coverage their car insurance offers their trailer, the additional protection from travel trailer insurance is a great buffer. You can customize your policy with even further protection if needed. 
Collision
When you obtain damages to your RV from an accident, collision coverage is what helps. This can be when you are on the road or even when you are stationary, and someone strikes your vehicle and travel trailer! The good news is that no matter who is at fault, collision will help you get your travel trailer back to its best. Most of the time this is only available on drivable RV's.
Comprehensive
Did a tennis ball fly through your fifth wheel's window while at a park? Or perhaps a falling branch crushed your travel trailer's roof while you were away? Comprehensive coverage protects from all the weird events no one can predict:
 Accidents caused by non-collision-related incidents
Theft
Fire
Vandalism
With comprehensive insurance coverage, you can ensure your travel trailer is completely covered. When you are purchasing travel trailer insurance, make sure you have this coverage.
Contents
Did you bring entertainment with you for your trip, or do you have irreplaceable personal belongings in your trailer? Contents coverage or physical damage coverage is a great way to safeguard against unexpected damage or theft of belongings while traveling. Keep in mind that you may already have some coverage through your homeowner's insurance, or through your comprehensive coverage.
Medical
During an accident, you can rest easy knowing your liability coverage will handle any medical expenses that the other vehicle may have. What about you, though? Health insurance will get you through some of your medical bills, but having medical coverage through your travel trailer policy will make a big difference if you need to go to the hospital from a bodily injury. 
Vacation Liability
When traveling, your auto and travel trailer insurance guarantees your protection. But, what about when you are stationary? Accidents can happen at any time, and vacation liability helps when there is an injury when you are traveling. If it happens in or around your travel trailer, this coverage will kick in to help!
Uninsured Coverage
There is absolutely nothing worse than being in an incident, not being at fault, and not being able to get everything repaired because the other guy is uninsured or insufficiently insured. It's a major bummer! Just like for cars, uninsured coverage is available for your travel trailer to ensure that, after the accident, you will still have the means to restore your RV.
Emergency Expense
Your travel trailer is your home away from home. However, when an incident happens, you may be left wondering what your accommodations will be for the night. Emergency expense coverage allows you to rest easy, knowing you can book an alternate location to spend the night and get things in order. 
Roadside Assistance/ Towing Coverage
This coverage is VERY important to obtain especially if you are traveling far from home. This will cover a tow bill to get your rig to the nearest auto center to fix a flat, replace a tire, etc… The worst thing would be to have to leave your home away from home on the side of the road.
The Benefits of Travel Trailer Insurance
Even though it may not be required, you still may wonder what you will get if you do choose to obtain travel trailer insurance coverage. After all, your auto insurance does cover some of your travel trailer needs, but not all and only when your travel trailer is on the move. 
These are some of the benefits of travel trailer insurance:
Peace of mind when traveling
Protection in the event of an accident, on and off the road
Help in replacement costs during an emergency
Security knowing that your effects are safe 
Security can make any vacation less stressful. Having trailer coverage guarantees that, while you are on the road or in parts unknown, you always have someone to contact that will help in the event of an emergency. While it is up to you, there is nothing better than lounging at a campsite without care. 
Who Sells Travel Trailer Insurance?
When it comes to finding travel trailer insurance for your needs, we have some good news! Camper trailer owners are spoiled for choice as many reputable providers offer policies to cover your travel trailer as well as your vehicle.
Some of the top companies that you can find travel trailer insurance through are: 
Farmers
Geico
Nationwide
Progressive
State Farm
USAA
You may even already have your auto insurance policy through one of these companies! If not, be sure to check with your insurance provider to see if they have options to help with your travel trailer insurance needs. Your agent will be able to identify if the insurer does and if there are any bundling options available. 
If your insurance company does not have travel trailer insurance available, then the above list is a great place to start your insurance search. Each company has different pros and cons, so be sure to check each of them out and see if their offers would be the right fit for you and your travel trailer.
Are you an individual who lives in their travel trailer? For some of us, a travel trailer is not a recreational vehicle. It is our home for either half of the year or the full year. Farmers is great for those who use their trailer as a living space and offers a Stationary Travel Trailer program to help offer quality coverage.
If you have a travel trailer, the gecko can help you out! Yes, Geico does, in fact, cover travel trailers and offers an enhanced policy designed to best help with the unique situations that come with a trailer incident. This policy includes options for emergency expenses, vacation liability, and even coverage in the event of a total loss.
They're on your side, even for your travel trailer! Nationwide is one of the most well-known insurers out there, and they are dedicated to providing quality insurance for your needs. Their company offers discounts for your policy to help you qualify and even have coverage options for custom travel trailer equipment!
With Progressive, you get a truly customizable travel trailer insurance policy. Not only do they have collision plans, comprehensive plans, and more, but they also offer add-ons to protect against pests, roof damage, and more. If you plan on traveling outside of the United States, they can even provide coverage add-ons for that!
If you are familiar with State Farm, you will know that their agents are always super friendly and helpful. That's what makes them one of the top insurers available. While there is not a whole lot of information on their travel trailer policies available, they do state that they provide this coverage. You can speak with one of their agents for more in-depth information. 
USAA is a great insurance company that supports the military and their families. Unfortunately, this means if you do not fall into either of these designations, they are a no-go. However, if you do, be very attentive to their guidelines. USAA is very diligent in their documentation when it comes to what they do and do not cover. 
How to Choose Your Provider
Always be sure you have the best coverage for your needs when it comes to your insurance. This is especially true for your travel trailer, as you will be in a position away from home if anything occurs. With so many great insurer options, who should you go with, and how do you choose among them?
It is always important to remember that any big purchase should always be meeting your needs. You should not have to adjust your needs and compromise more of your coverage desires to get a policy in place for your travel trailer. That is why you should take your time when seeking a policy to be sure you make the best choice. 
Also, keep in mind that no two people have the same policy needs. While it is a great idea to ask a friend for advice when choosing insurance providers, what they have in their policy may be more or less than what you need and want. Speak to an insurer and see if they have customizable plans and packages that you can cater for your travel trailer. 
Once you are ready to start searching for insurance, you need methods to narrow down your search and find the ideal company to go with. If you have a shortlist of insurers you are considering going with, make sure to check reviews, compare quotes, and test accessibility and discounts to find the ideal insurer for you.
Check Reviews
Back in the day, the word was spread from person to person on whether a particular company was a great choice. Now, with modern technology, a business's reputation is easily discoverable online through customer interaction and reviews. Whether you are on Google or social media, simply typing in a company's name can reveal all you need.
Combing through reviews can be extremely helpful as they are uncensored, honest takes on interactions with a company and how they have handled policy issues in the past. Of course, it is important to understand that, many times, negative reviews are written at the height of emotion, and issues may have been resolved at a later date.
A good rule of thumb is that you want to see more positive reviews for a company than negative ones. This should be a vast numerical difference. This means that, overall, there were good interactions! If the negative outweighs the positive, however, then the company may not be the best fit for you, and you can remove them from the shortlist. 
Accessibility
Accessibility is key when it comes to using a policy. There is no telling where you may be and what available connection you may have when an incident has occurred. You need to be able to reach the insurance agency and file a claim at the drop of a hat. Looking into accessibility options from the company can help you determine if they will really be there in your time of need.
A policy with a 24/7 emergency line is a fantastic one to look for. With this setup, you know they have people available for contact at any time, day or night, ready to help you file your claim. Their customer service will always be able to walk you through the steps and keep you calm during an emergency.
Another accessibility option to look out for is through an app. Many insurance companies now have mobile apps that allow you to click and get your insurance information when you need to share it. Not all companies have it, however, which can create a paperwork hassle while you try and exchange details.
Finally, what does their mobile website look like? While it may be nitpicky, mobile website design needs to allow for easy use of the website so you can access your information and make payments. This is especially important if they do not have an app. If you have a hard time getting information, the policy will not be as useful. 
Get and Compare Quotes
One of the easiest ways to compare an RV insurance company is to get quotes and then compare them side by side. Sometimes different companies will have the same coverage at completely different costs! By requesting a quote, you can customize your policy to how you would want it to be set up and then really see how the cost will look.
Before you even get to the final quote number phase, the customization process plays a big role in helping you choose between companies. Some do not have as many options as others. Remember, your policy for your travel trailer insurance needs to cover what you want it to. If a company does not provide what you are looking for, then you can scratch them off the list.
Keep in mind as you compare quotes that the cost on the paper may not be the final cost in the end. Some insurers may actually have different rates on different days or be able to proffer better rates when you speak with them. I cannot stress this enough, BUY MORE COVERAGE THAN YOU NEED. Typically it may only be something like $7 more per year to go from $250,000 of coverage to $500,000 of coverage.
Discounts
At the final step, once you have a few quotes in hand and have your list all the way narrowed down, discounts can help you make your final decision. Consider anything and everything about your life that may be able to work as a discount, and don't hesitate to ask the provider if they will add a discount for it. You may be surprised!
One of the biggest discounts many insurers provide is bundling discounts. This is where you house all or most of your insurances through one particular company. An example of this would be a Home and Auto discount, one of the most commonly available from many companies. While it could be beneficial, you may have to consider changing over some other policies.
Remember, insurance companies want you to be a part of their business, so they will not shy away from trying to get you the best discount possible. Ask them about any possible discounts they may have that pertain to you, and do not hesitate to take your time reviewing them. Applying discounts will get you a great deal on your travel trailer insurance. 
Is Travel Trailer Insurance Expensive?
Compared to some other insurance policies, travel trailer insurance is actually relatively inexpensive. The average range is between $250 to $500 per year. When you do the math, that's about $20 to $40 a month, plus some change. However, there are ways to lower your insurance payment per month. For our travel trailer, we pay about $416 per year for awesome coverage.
Removing Certain Coverage
How old is your travel trailer? How much is it worth? After a certain period of time and a certain amount of wear, it may not be worth it to get all over the coverage options for your travel trailer. You can reduce the amount of coverage you believe your trailer needs to reduce the overall cost of the RV insurance policy.
Heightening Your Deductible
If you are willing to pay more upfront, then you do not have to pay more from month to month. For many insurance companies, this holds true of their policies. Consider raising your deductible to lower your monthly bill. The downside is, you will pay more upfront if there is an incident. The upside is, you can save for such occurrences. 
Working On Your Credit
Good credit can open up the world for individuals. How is your overall credit score? Working to improve it can reduce costs associated with your insurance. In fact, it is known that if you have bad credit, insurers might raise the policy cost. This is because there is a correlation between poor credit and accidents.  
Getting Insurance From Your Employer or Association
Some employers or associations such as Costco or RV clubs are gracious enough to have discount offers through insurers that their employees/members can take advantage of. While you should still compare quotes before settling, make sure to check out what your employer has to offer. It may provide the best policy for your needs and be cheaper!
Do you need travel trailer insurance?
Travel trailers might not require insurance to be on the road, but without insurance, it can lead to unfortunate losses in the event of an accident. While automotive insurance can cover a certain amount of liability, the fact remains that it will only cover liability and only when your travel trailer is in motion. 
RV insurance ensures that no matter where you are, you can guarantee that your trailer is safe from storms, accidents, damage, and even the unexpected. With a quality policy, you have peace of mind that no matter what may come your way, you can get help fast and always have a place to stay.
Take your time to always compare different insurance companies and policies. One policy does not fit all, and you need to have a policy that meets your needs. Do not compromise the coverage you want to fit a policy: work with the agents to find the best one that will give you the ultimate protection while on vacation or on the road. 
So, do you need travel trailer insurance? Yes, it is worth it just for the fact you know that you can always get anything repaired, from a small bump to a torn-off awning. Before you hit the road for your vacation or for business, make sure you have quality protection for your home away from home with travel trailer insurance!
Get MORE out of The Savvy Campers Directly to your Inbox!
Be the first to be notified about FREE tips, hints, coupon codes, and email-exclusive information. All for FREE!