Camping throughout the year provides you with endless opportunities for adventure. Around every turn you take, a new journey awaits you. If you are wanting to spend every waking hour outdoors on hikes and soaking up the great outdoors without spending time cooking, no-cook camping recipes are the solution for you!
There are an incredible amount of recipes that allow you to soak up every moment while not having to spend time cooking a large camping meal for all to enjoy. Whether you need backpacking meals that you can take with you on the trail or simply want a quick dinner to eat between adventures, we have rounded up several non-cooking food ideas!  
In this article, we provide you with a plethora of recipes that offer you convenience, flavor and allow you to get back to exploring in no time. 
Breakfast
Overnight Oats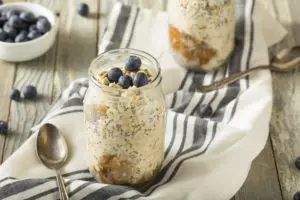 A breakfast that provides you with a solid punch of protein but takes no time to prepare in the morning gives you a quick energy boost before you hit the trail. 
Overnight oats can be made several days in advance by combining oats, milk, honey, and yogurt and then placing them in the fridge overnight. As night rolls on, these oats will turn into the perfect combination to welcome you the next morning.
Add dried fruit for a burst of flavor and give you solid quality energy to start your morning hike. These oats are great cold but can be warmed up as necessary. With recipes like banana bread, overnight oats, and so many more, you can find a recipe that will suit anyone's palette. 
Yogurt Parfaits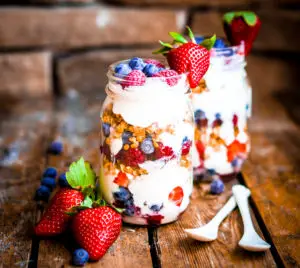 Kids of all ages will love devouring a yogurt parfait, and the best part is they take little to no effort to prepare for your entire family to enjoy. 
When you go to the grocery store, grab multiple bags of nuts like pecans, fresh fruit such as strawberries, and even a thin amount of chia seeds. Yogurt Parfaits are quick, healthy, and provide a great snack throughout the day or a strong breakfast to start your weekend. 
Bagel Bar
Bagels are an easy breakfast when you are camping because you simply need cream cheese and bagels for all to enjoy. Add slices of strawberries or provide various toppings for kids and family members to make their own to enjoy. 
You can even take it one step further and have a bagel bar that allows others to make their own specialty bagel 
Avocado Toast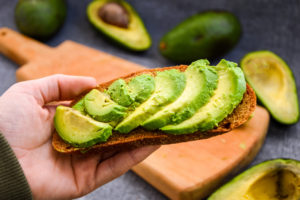 If you have been to any breakfast restaurant over the past year, you may have seen one particular recipe that has risen to the top of many menus…avocado toast. Avocado toast is gaining in popularity due to its great flavor that also provides you a stellar nutrition boost. 
For a punch of flavor, make sure you bring everything but the bagel seasoning to sprinkle atop your avocado toast. 
Make your own Trail Mix
Making your own trail mix allows you to create a perfect snack or addition to any meal. Find your favorite snacks, dried fruits, and more, and add them together to create an epic mix. 
Some favorites for trail mix combinations include chocolate chips, M&Ms, dried cranberries, pretzels, and more. The possibilities are truly endless for the variety of trail mixes you and your family can create. Buy a variety of trail mix additions and have everyone create their own mix for a fun activity for all to enjoy. 
Lunch 
Charcuterie Board on the Go 
Grab your favorite sliced meats, cheese slices, fruits, olives, and place them in various baggies to enjoy out on the trail. Remember that the cheese and meat will need to stay cold, so add an ice pad to your backpack on that day. 
Layout your charcuterie board on the go for people to grab various snacks to enjoy during your hiking break, and family and friends will continue to come back for more. 
Jar Salad
A jar salad combines all of your favorite flavors in a perfectly packed mason jar for you to enjoy. By strategically placing lettuce, vegetables, and more while also having a container of dressing, all you have to do is combine all of your ingredients and shake your jar. 
Once you shake your jar salad, you are ready to eat and enjoy a salad that has maintained its freshness. Instead of having a premade salad that is wilted and soggy, you can now enjoy a crisp and fresh salad that is overflowing with various flavors. 
Mexican Dip Tray 
Who said you can't transform dips into an entire lunch meal for your family to enjoy? Guacamole, salsa, and other dips combined with slices of raw vegetables create a snack tray all can get full off of. You can even add in sliced salami for an added amount of protein that will be a great addition to your tray.
Prepare ahead of time by pre-slicing guacamole components as well as fresh vegetables to make lunch prep that much easier when you are out in the woods. Find incredible tips to create guacamole while camping here. 
Hummus Roll-Up 
Hummus comes in so many different flavors, which allows you to create a lunch meal that is not lacking in flavor. Grab your favorite hummus, tortillas, lunch meat, and chopped-up veggies, and roll it into a delicious lunch after a long hike. 
A hummus rollup is a simple meal that can easily be prepared ahead of time to enjoy while you are out on the trail. 
Tomato Mozzerella Salad 
Tomatoes and mozzarella have been an incredible combination for years, and many people love to order it to enjoy at their local restaurant. Just because you are out enjoying the great outdoors, doesn't mean you cannot soak up the sunset while enjoying a tomato mozzarella salad.
Slice up tomatoes and mozzarella and add them to a bowl or layer them on a skewer to enjoy together. No matter how you enjoy this salad, you will thoroughly enjoy the flavor it provides. 
Tuna Cucumber Boats 
Grab a tuna packet and a cucumber to easily enjoy the perfect combination of flavors. Tuna Cucumber boats utilizing a tuna boat are a great option for trail hikes or when you are away from refrigeration. 
If you have a way to refrigerate your food, you can opt to make your own homemade tuna that will add a layer of flavor to your tuna cucumber boats. 
Smoked Salmon Crackers 
Grab a pack of your favorite crackers, a pack of smoked salmon, and a block of cream cheese for camping food that is delectable and easy to carry with you wherever you travel next. 
The smokey flavor of the salmon combined with the delicate flavor of the cream cheese makes a perfect snack as well as an entire meal to enjoy. Smoked salmon crackers may become a fan favorite with the perfect combo of flavors they provide. 
Pasta Salad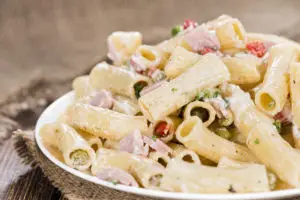 There are so many types of pasta salad that you can make ahead and bring with you camping that will provide a great and easy meal. Choose a few pasta salads to make ahead of time and keep them refrigerated to enjoy while you are out o your next adventure. 
Pasta salad is favored by so many and is a great option to enjoy the great outdoors as the sunset appears from behind the nature you have explored all day. This Mediterranean pasta salad is one option to add to your camping recipe stockpile to use time and time again. 
BLTs
Bacon, lettuce, tomato sandwiches are great camping food that requires a little bit of prep work ahead of time, but they are absolutely worth it. 
Simply put, the only thing you need to cook ahead of time is your bacon. After you have bacon slices pre-cooked, add mayonnaise to two slices of bread and layer tomatoes, lettuce, and bacon to enjoy. 
Dessert & Snacks
S'mores Parfait 
S'mores are a camping classic that many people enjoy around the warmth of a crackling campfire. Whether you are in an area that is on a burn ban or you are wanting to minimize the number of campfires you have to build, there is a delicious option for you to enjoy. 
A S'mores Parfait combines the delicious flavors of graham crackers, chocolate, and marshmallows without needing any heat to create it. This amazing recipe can even be made in advance to further minimize the work you need to do while camping. 
Strawberry Cheesecake Grahams
Utilize the graham crackers you usually use for s'mores to create a scrumptious snack that requires absolutely no cooking. By combining the sweetness of honey with fresh fruit like strawberries and a layer of cream cheese, you create a dessert that can be adapted in a variety of ways. 
Strawberry Cheesecake Grahams can be eaten on a trail, around the campsite, or as in an in-car snack on long travel days. 
Ants on a Log 
Kids will love devouring ants on a log that provides them a quick and fun bite to eat. Simply cut up celery before you leave or buy pre-cut celery. Grab a small container of peanut butter and fill your celery stalks with peanut butter. 
After you have the celery filled with peanut butter, add raisins on the "log" as your "ants," Kids will get a kick out of a mid-hike snack that resembles ants on a log, and it will give them an energy boost as well. 
Snack Time Skewers
Snack time skewers resemble a deconstructed charcuterie board on a stick. Kids will love peeling off layer by layer as they uncover new flavors every new bite. 
Choose a variety of flavors that your family enjoys and make them ahead of time for easy-to-grab snacks on the go. Make sure you have your snack time skewers on an ice pack or refrigeration to ensure their freshness. 
Ham Sushi Rollups
Ham Sushi will entice even the pickiest of eaters while camping under the stars with simple ingredients like ham, sliced carrots, and cucumbers. A quick yet flavorful snack that is fun to put together makes it a great option for your next camping trip.
Other Camping Food Options
There are so many options when it comes to no-cook camping food for you and your family to enjoy. While you're at the grocery store buying supplies to make the various recipes seen above, you can also grab a variety of dry goods that will make camping even easier.
Granola bars, fresh fruit, boiled eggs, and beef jerky are all great to add to your camping food checklist as they are great to throw in a hiking backpack and provide you with energy whenever you need it most. 
Another camping food option that you should think about when you are at the grocery store is buying non-perishables. Non-perishables like peanut butter, nut butter, canned goods (canned tuna), and more can be used on your camping trip without worrying about anything spoiling. 
There are also military food packets and dehydrated meals that simply need water to heat up and will provide you with a warm meal without having to have a cooktop or fire. They come in various flavors and would be fun to try on your next trip while you are out camping. 
Tips for Food While Camping
While many of the recipes listed above don't require refrigeration, some of them do, so make sure you come prepared with ice or an ice pack to keep certain foods cold.
 If you are going out exploring for the day, simply pack a small backpack that is insulated and can hold your cold food without any issues. Freezing water bottles ahead of time is another great option to give you ice-cold water access while also keeping your food cold. 
Another step you can take before going camping without cooking is preparing any foods you need to in advance. By chopping up veggies for guacamole or premaking roll-ups, whatever you can do at home will open up more time for you to explore your new destination and make the most of your time. 
Conclusion
We hope these meal and snack ideas make your camping trip as easy as possible so that you can do what's most important… spend time with friends and family and enjoy the great outdoors! Happy camping!
Get MORE out of The Savvy Campers Directly to your Inbox!
Be the first to be notified about FREE tips, hints, coupon codes, and email-exclusive information. All for FREE!