When choosing a RV to buy you have several choices, Class A, Class B, Class C, Travel Trailer, 5th Wheel, Toy Hauler, Pop up Camper, etc… but there are three that are similar in which have a motor and are not towed. Class A, B, and C. Class B is typically a smaller retrofitted van type vehicle, so if you are looking for something large with a full bathroom, that does not need a tow vehicle, you will be looking at a class A and a class C.
What do Class A and Class C RV's have in common
When people are considering safe and comfortable transportation options for a long trip, motorhomes are the most common thing that comes to mind. While many people think all motorhomes are all the same, this is in fact wrong. There are a total of 2 different types of large motorhomes named Class A, and Class C. A Class A motorhome and a Class C motorhome are the most commonly bought by people due to the fact that both have an attached driving cab and have large spaces in the rear.
While this is one of the most important similarities between a Class A RV and a Class C RV, it is not the only thing. One of the similarities that they share that most people consider very important is the fact that both come equipped with a full bath, which means the shower is alone from the toilet. For people who need plenty of sleeping room, the Class C and Class A RV choices are the best with both having room for at least 3 people but more commonly more than that up to 12+ people.
What is different between a Class A and Class C Motorhome
While there are many very important aspects that the Class A motorhome and Class C motorhome share, they also have many differences that are very important to note when considering which one would work best. Some of the things that the Class C and Class A RV choices have that are different are the size of living space, amount of storage, overall length of the motorhome, how easy they are to drive and tow from, and their fuel usage. All of these differences will be expanded on below and should be taken into consideration when deciding which style works best for what trip.
Length
The overall length of the motorhome can be very important when deciding which one to pick. The longer the length means the harder the motorhome is drive, but it also means there are more sleeping and storage options within the motorhome. The Class A motorhome can be anywhere from 21 feet long to 45 feet long, but a Class C can be anywhere from 20 feet long to 37 feet long with the 28 feet being the most common. A Class A is typically 8′ wide and a Class C is usually 7.5 or 8′ depending on the model.
A Class A will be larger than a Class C providing more living area.
Auto Leveling
Auto leveling is a luxury that many people would rather pay the high fee to have because it means less work on them when they are parking the motorhome. While the Class A comes with auto leveling, the Class C typically does not, which means that people have to go through more steps when making their motorhome level and safe. The leveling process can take anywhere from 10 minutes to 30 minutes depending on the situation and your experiance.
Space in Driving Area
Something that matters a lot to people when they are considering the motorhome they want for their trip is the amount of space in the driving portion of the RV. While the Class A has a built in cab, which allows for plenty of room and easier movability to the rest of the RV as you are essentially driving in the living area, the Class C has a van or truck chassis, which makes them much smaller with less room to move from the driving area to the rest of the RV. Typically the driving area in a Class A is flat and if anyone has mobility problems, a Class A will be the product of choice.
Storage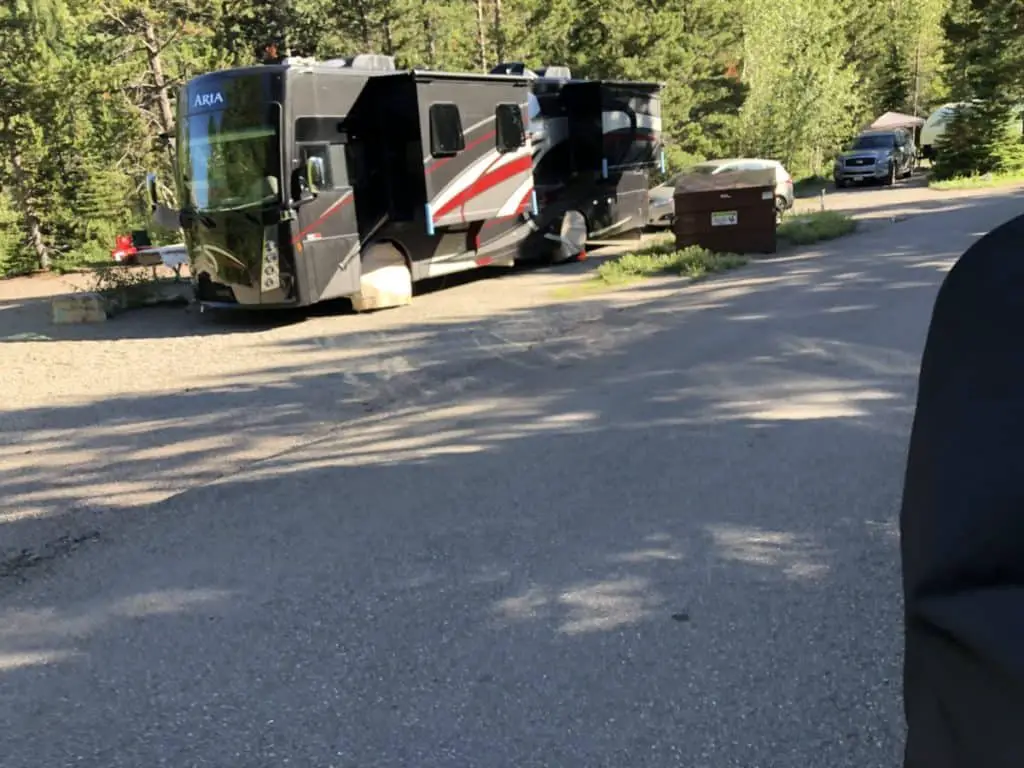 When talking about the storage options for a motorhome, a Class A RV will usually always have more storage due to all of the storage under the chassis like a touring bus. You will be able to fit many items including a kitchen sink in the chassis of a Class A. If you have a Class C, they have some storage, but not anything like a Class A, more like that of storage in empty areas like a travel trailer would have.
Weatherproofing
Class A motorhomes typically are built for 4 seasons and come with better insulation, enclosed valves, and devices to keep your tanks from freezing. Class C motorhomes do have insulation such as in a Class A, but from what we have seen, are not built and insulated as well as a Class A.
Durability
The durability of a motorhome is very important when deciding which one to purchase because it determines which one should last longer without having to have extensive repairs done to them. With the Class A having a chassis built to handle the heavy weight similar to a bus, it is very durable as they typically are built to higher standards than a Class C. Class C RV's typically are built on a chassis modified from a F450 or similar truck chassis. Essentially it is like someone put a travel trailer body on the chassis, therefore it may not be as quality or durable as a built bus chassis.
Roof
The roof of an rv plays a huge roll into the durability and waterproofing of an RV. The Class A most commonly comes with a laminate roof with an outer layer of fiberglass. Class A's may have little roof maintenance as the roof is built like the rest of the vehicle. The Class C on the other hand is commonly done with a rubber or TPO roof which will wear out quicker and is prone to damage from tree branches and suns rays than the fiberglass if exposed to the elements.
Visibility
The visibility from inside the RV all depends on the class of RV. A Class C is going to have limited visibility due to the cab structure built over the driving area, as well as the RV box may be wider than the actual cab you are driving in. The Class A will have a wider range of visibility due to the large expansive windshield from left to right and from top to bottom. As the cab is the same width as the rest of the RV, you simply cannot beat the visibility of a Class A.
Passengers will be able to enjoy this view from the large windshield as well. Visibility for passengers is lacking in a Class C RV due to the driving area being stepped down and the windshield similar to that of a truck.
Heating and Cooling
The heating and cooling of an RV can be a tricky thing. One of the most common problems is that an RV comes with one heating and cooling system, which means the larger Class A would be harder to keep warm or cool then the smaller Class C option. The cab of a Class C will be easier to keep heated or cool with the HVAC system running by the engine, but the Class A as well as the Class C have the ability to run an onboard generator to run the house units to keep the whole unit heated and cooled. Overall as the Class A is better insulated, it will be easier to keep heated and cooled over the long run.
Larger Tanks
The size of an RV yet again come into play when considering the tank sizes that come with the RV. The larger Class A option would typically have larger fuel, fresh water, grey, and black water tanks due to the construction of the chassis. A Class C would have have smaller tanks in order to keep the living space a reasonable size and provide for under chassis storage.
Luxury Options
While both the Class A and Class C can come with many luxuries, some being the same, there are some differences that can be seen between what each one might come with. A Class A can come with a king sized bed, a master suite, a full bath, a full sized fridge, dishwasher, and even laundry machines. A Class C on the other hand usually has a queen sized bed and a full bath, but they hardly come with washer and dryers. When looking at the finishes of a Class A, they will be top notch as compared to a Class C. In some Class A RV's you can even get heated tile floors!
Slide Outs
Once again this is where the Class A shines due to the construction and chassis. Smaller motorhomes have always been known to come equipped with slide outs, which allow more room for sleeping in the motorhome. The Class C can come with up to four different slide outs depending on the side of the motorhome. Not only does a Class A typically have more living area within the RV, but its slide outs can be HUGE, even the whole side of the coach.
Towing Power
While both the Class A and Class C typically are both capable of towing, Class A RV's can usually tow up to 15,000 pounds and Class C RV's usually have a capacity of 10,000 pounds. There are outliers that deviate from these numbers, but these are typical numbers for average RV's.

Ride Quality
The way the motorhome is built is a huge factor in how comfortable the ride would be for the passengers. With the Class C being built on a separate chassis such as a F450 work truck, the ride can be a little rougher because of the different sets of suspensions and shocks. The Class A on the other hand is one piece, so it will typically have a better ride and if they are equipped with air suspension, it will have a smooth as butter ride.
Fuel Efficiency
This one depends on the size of the RV as well as if it is a gas or diesel. Typically a Class C RV will get better fuel economy, but if you were to compare a same sized Class A with a diesel and Class C without, the Class A will get better fuel economy. If you are a weekend warrior and not driving every day, the difference in fuel economy will not be noticable.
Safety
Both Class A and C RV's come with safety features such as seatbelts and airbags, but depending on the crash, one may be better than the other. For example, if it is anything other than a front end crash such as a rollover, T Bone, or rear end, usually a Class A will be safer. If it is a front end crash, Class C RV's are designed like heavy trucks with a crash zone at the front.
Aerodynamics
I would have to say neither wins in an aerodynamic contest. As a Class A is a 1 piece front, I would say this is better as the Class C has a cab over bed so that would hold air driving down the road like a soar thumb.
Leaks
As we found out already, a Class A RV has a better built roof. Class C RV's can have a rubber roof membrane like a travel trailer. Class C roofs are known to leak over the cab area in many instances, therefore the Class A roof is far superior.
Navigating within your RV
As the driving area is in the living area of the Class A, it will be easier to navigate from driving to living than in a Class C. A Class C has a step down driving area, therefore it is like a car in which you need to climb in and out of every time. When thinking of passengers, you can only have two in the driving area of a Class C where in a Class A you can interact with your passengers as you are on the same level.
Conclusion
A Class A typically is superior to a Class C, but like always, you may have different wants and needs so you can choose what situation will work best for you and your family.
Get MORE out of The Savvy Campers Directly to your Inbox!
Be the first to be notified about FREE tips, hints, coupon codes, and email-exclusive information. All for FREE!