What are the best lightweight trailers is a question that is always asked when you start trailer shopping. We have gathered a list of the 6 best travel trailers that can be towed by a midsize vehicle weighing under 5,000 pounds. We also have a list of Top Travel Trailers under 3,000 Pounds.
Depending on your vehicle's towing capacity, these should tow well if you have a tow rating of 5,000 pounds or more. Many midsize suv's have a 5,000 capacity such as the Acura MDX, Ford Explorer, Chevrolet Traverse,  Honda Pilot and Ridgeline, Nissan Pathfinder, Kia Sorento AWD, Subaru Ascent, Toyota 4Runner and Highlander, Volkswagen Atlis, Volvo XC90 AWD, and many other popular midsize vehicles if properly equipped. Look into your towing capacity at TrailerLife.com. Learn more about towing your trailer and about the average weights by reading our Average Trailer Weight article.

We found the most desirable livable floor plans that would work great if you are traveling alone, or have some kiddos that tag along. We picked units with a full bathroom, meaning not a wet bath as those can be a bit difficult and uncomfortable when using. Wet baths have a purpose, but we prefer not to have a bathroom like a shaggy wet dog was in there. All of these units can take you on a weekend getaway or on a cross country trip with ease.
Let's get down to business and show you which units are the best!

Jayco Jay Feather X17Z

The Jayco Jay Feather X17Z is the only expandable travel trailer on our list. An expandable travel trailer can be a huge benefit when it comes to its size as the beds stick outside of the main livable and dining area. Meaning, that you get 17' of actual living area and the beds expand another 9.5' total out of the front and the rear. This is cheating in the travel trailer world, basically you get a 26.5' trailer that sleeps 6-7 people for the weight and towing difficulty of a 17'.
Jayco travel trailers include an industry leading 2 year Limited Warranty vs the typical 1 year warranty included with other trailer manufacturers. The tent material has a 5 year warranty and the tent shelves are very capable with a weight rating of 1,050 pounds each.
The awning covers about 60% of the length of the trailer or 10'. The x17z  has two RV queen beds that sit in the expandable sections, a dinette, sofa, full bathroom with separate shower, 3 burner range, microwave, and a large 5 cubic foot refrigerator.
This Jayco is equipped with dual 20 pound propane bottles, a 13,500 BTU air conditioner, Goodyear radial tires, power awning, power tongue, solar prep, enclosed underbelly, outside shower, exterior tv bracket, aluminum rims, and much more. The enclosed underbelly is important if you plan on taking this trailer out in the winter, but may not be needed as this is a tent model and how often will you want to sleep in a tent in the winter.
From the factory this is a very capable RV in its stock form, there are little factory upgrades you would need to buy to have a nice RV.

This RV is perfect for the person needing to sleep four adults, and 2-3 kids while enjoying all of the comforts of home. This trailer is for use mostly in the summertime due to the tent material not having as good as insulating properties as a fully hard sided unit. An expandable trailer would not meet our criteria as we like to camp in cold weather and the reason we bought a trailer is to keep warm. However, with the heater, it is better than sleeping in a tent. It just won't retain its heat as good as a hard sided unit.
Also you will want to check camping restrictions in your area, some campsites do not allow tent trailers as they allow food smells out, and the tent material makes it easy for animals to get in.
Pros
Has front and rear expanding tents for 2 beds
Sleeps 6-7
Enclosed Underbelly
Cons
Will not retain heat as well as a hard sided unit
Have to wait for tent material to dry before storing
Extra setup time to set up and take down beds
Winnebago Micro Minnie 1706FB
The Winnebago Micro Minnie 1706FB made it on our list as it is a very comfortable sized trailer to tow with a midsize SUV with a nice sized bed, dinette, as well as full bathroom. The entrance into the trailer is in the rear of the unit with the bathroom across the trailer from the entrance door. The kitchen has a 3 burner stove, large RV refrigerator/freezer, and microwave. The Winnebago is equipped with a 6 gallon gas, electric water heater, dual 20# propane tanks, heated and enclosed holding tanks, LP quick connect for addition of an exterior bbq, solar prep, battery disconnect, dual 3,700 pound axles, black tank flush, power jack, led lighting throughout, LED TV included, 10' awning, 18,000 BTU furnace, a bathroom skylight and separate vent, and many more features.
We have a Winnebago and can vouch for its quality. The cabinets are sturdy, there is about 2" thick foam for insulation in the walls, the shell is fiberglass making it easy to buff as you would a boat or automobile, the heated undercarriage and enclosed dump valves make it good in the cooler months, slam latches and friction door are some of the top features to make this unit above the rest.
The 1706FB has a 60"x74" bed with a divider curtain for privacy from the rest of the trailer. This is the only unit on this list that has dual axles. Dual axles are important on a travel trailer in case of a blow out on the road, you will still have a tire left to not cause a dangerous situation. This dual axle feature is also shown in the cargo carrying capacity leading the other mentioned trailers at 4,020 pounds.
One of the best features is the huge wardrobe and pantry at the rear of the unit. There are also drawers for under bed storage. This unit has some of the most storage out of all of the trailers recommended.
This RV is geared more towards two campers, but is available to sleep two adults with a few kids or three adults utilizing the bed and dinette. This unit will do great in colder weather as it has a heated and enclosed underbelly as well as a heat strip on the a/c unit as well as the propane gas furnace. A drawback of this unit is it is only 7' in width. This can be thought of as a benefit as it can easily be seen behind with normal mirrors and easier towing creating less wind resistance.
Pros
Dual Axle
Cargo Carrying Capacity of 4,020 pounds
Large Refrigerator/ Freezer
Electric Heat
Cons
Can be a bit narrow
Only sleeps 3
Smaller Bathroom
Flagstaff E-Pro 19BH
The Flagstaff E-Pro E19BH is a perfect model if you have kids and for the techy gadget side of you. The trailer comes with a full bed in the front, a dinette, as well as two single bunks in the back which can be folded up when traveling for bike storage. The 19BH has a tub in the bathroom, but does not have enough space for a separate sink. A bathroom user will have to use the kitchen sink.
This unit has a smaller fridge/microwave combo as well as a 3 burner stove. You will find a 13' awning with gas grill as well as a separate door to access the bike storage when the bunks are folded up.
The Flagstaff comes with a gas/electric water heater, 100w roof-mounted solar panel with 1,000 watt inverter, WIFI Ranger WIFI Booster, 20,000 BTU Furnace, dual 20# LP bottles, alloy wheels, heated mattress, MaxxAir vent fan and vent cover, recessed cook top, black tank flush, and water filtration system.
The solar panel, inverter, WIFI booster, MaxxAir Vent Fan are typical additions many travel trailer users end up adding at a later time. The fact that these are pre installed will save you time and can run upwards of $1,000 if bought after the fact.
This model is for the person who has a few kids and wants all the extras on their RV to be included and not have to be installed later down the road.
Pros
Includes Solar
Preinstalled WIFI Range Extender
Includes MaxxAir Vent Fan
Heated Mattress
Larger 20,000 Furnace
Cons
R Pod RP 190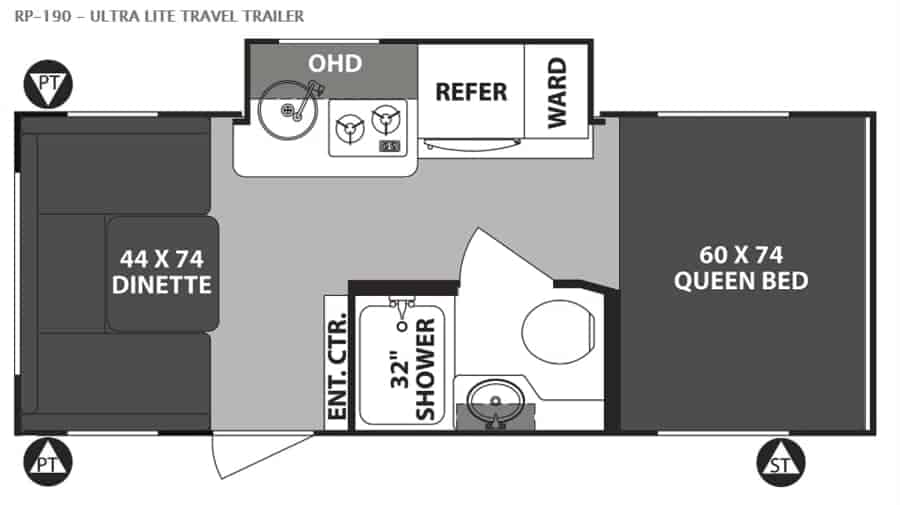 I would say the RPod has one of the largest followings in the trailer world. There are many forum articles and topics about these units as well as aftermarket support. The Rpod RP-190 is the lightest trailer on our list of favorites at 2,785 pounds. This specific unit has a slide which extends the kitchen area. Along with the lighter weight, the Rpod has a standard 2 burner stove, smaller form refrigerator, and has no oven. There is no lack of living space as the unit has a 60"x74" queen bed as well as a 44"x74" dinette and a full bathroom. There is a lot of trailer packed in the size of this R-Pod. Standard features include LED tail lights, aluminum wheels, dual battery rack, 6 gallon gas/electric hot water heater, 3.7 cubic foot 3 way refrigerator (gas, electric, 12v) 20,000 BTU furnace, 4 speed MaxxAir fan, 6'6" interior height, hardwood drawer fronts assembled with screws, single 20# LP tank, outside shower, black tank flush, and solar charging port.
The R Pod has more of an aerodynamic shape than the rest to ease towing wind resistance. The R Pod awning is optional on this unit, along with a power tongue jack and bike racks.
This unit would be best for the couple traveling as well as a couple with kids as the dinette folds into a bed. Overall, the RP-190 holds a lot of features in a small lightweight package.
Pros
Aerodynamic Shape
Larger 20,000 BTU Furnace
MaxxAir Fan
Lightest Unit at 2,785 pounds
Cons
Single Propane Tank
No Power Awning
Small Refrigerator
Coleman Lantern 17FQWE

The Coleman Lantern LT 17FQWE is another great unit that has a large sleeping capacity that can accommodate 6 adults thanks to the single over double bunk beds in the rear. In the front of the trailer, you have a queen RV bed, dinette which folds down for sleeping, and the mentioned bunks in the rear. This unit does have a good-sized bathroom but is lacking a sink due to the larger bunk sizes. This unit has an overhead microwave, 2 burner stove, and smaller 3.3 cubic foot refrigerator.
Standard features are a 6 gallon gas water heater, backup camera prep, skylight in bath, single 20# LP bottle, solar charging connected, tinted safety glass.The Coleman has the option of a  power front tongue jack, and is the only unit on our list to include power stabilizer jacks as an option as well. This trailer is the shortest on our list, so if you have a garage you are trying to fit a trailer in, this unit is only 8'8" and is about 1'1" less than comparable units due to its side mounted a/c unit. This unit seems to have the least amount of features out of any on the list, but it seems as many may not be listed on the website. We find that many manufacturers do not have the best descriptions or information available on their websites which is a negative for consumers as they have to search to compare trailers. This unit is good for the budget minded user. It has an ac unit that hangs off the side and does not have an enclosed underbelly. It is about $2,000 cheaper than the next cheapest model, so if you are looking for a basic unit that can be had for less, this is your unit.
Pros
Lower Height at 8'8
Large Sleeping Capacity
Large Bathroom
Cons
Less Features than the others
Small Refrigerator
More "budget friendly"
Minnie Drop 190BH

The new for this year Winnebago 190BH gives you a large teardrop trailer that can sleep many thanks to the dual bunk beds and huge dinette all in a tight package. This Winnebago is comparable to the RPod on this list as it is a teardrop style single axle trailer. The bathroom is one of the best features of this model with a full walk-in bath with shower, sink, and toilet. The trailer has a dual burner stove, as well as a refrigerator microwave combo. Outdoors, you will find an outdoor kitchen with a pull out cooktop and sink. Out of all the units on this list, this is the only one with an outdoor kitchen. If it is a rainy day and you have 4 adults and two kids, you can hang out in the comfort of your trailer with ease.
The 190BH includes a 6-gallon water heater, 18,000 BTU furnace, convection microwave in place of an oven, full ball bearing glides on drawers, tinted safety glass windows, one-piece fiberglass roof, outdoor shower, power tongue jack, solar charger prep, single 20# propane bottle as well as black tank flush.
The slide extends the kitchen out to create more space between the kitchen and bathroom. The awning is just large enough to cover a picnic table at 7', but is one of the smallest on our list.
This teardrop trailer can take a family cross country and sleep 6 without the need for a huge travel trailer or an expandable tent trailer.
Pros
Convection Microwave Doubles as Oven
Large Sleeping Capacity
Large Bathroom
Outdoor Kitchen
Cons
Single Propane Bottle
Small Awning
| | | | | | | |
| --- | --- | --- | --- | --- | --- | --- |
| Make/Model | Jayco X17Z | Winnebago 1706FB | Flagstaff E-Pro 19BH | RPod RP190 | Coleman 17FQWE | Winnebago Drop 190BH |
| Length | 18'4″ | 19'2″ | 20′ | 20'4″ | 21'5″ | 21′ |
| Width | 8′ | 7′ | 7'4″ | 8′ | | 8′ |
| Height | 10′ | 10′ | 9'7″ | 9'7″ | 8'8″ | 9'11" |
| Unloaded Weight | 3,195 | 2,980 | 3,088 | 2,785 | 3,211 | 3,160 |
| Dry Hitch Weight | 450 | 300 | 360 | 336 | 373 | 525 |
| Gross Weight | 3,950 | 7,000 | 3,860 | 3,836 | 3,850 | 4,000 |
| CCC* | 755 | 4,020 | 722 | 1,051 | 639 | 840 |
| Fresh Water | 28.5 | 31 | 37 | 36 | 27 | 31 |
| Grey Water | 30.5 | 25 | 30 | 30 | 28 | 25 |
| Black Water | 22.5 | 25 | 30 | 30 | 28 | 25 |
| MSRP | $28,435 | $17,109 | $23,752 | $24,246 | $19,592 | $27,599 |
| Online Sale Price | $18,900 | $17,900 | $19,599 | $16,995 | $14,990 | $18,900 |
*CCC= Cargo Carrying Capacity
Overall, any of these trailers would be great to have as each serves its purpose to get you out in the world traveling and learning about what is out there. Read about what may be important to you from our article on What to Look for when Buying a Travel Trailer. Sizes and weights of these trailers are very similar. We do not have a favorite out of these, as a favorite for us may be different with a small family as a favorite with you which may have a larger family, or just a single user. These units should be able to take you to your local camping spot as well as cross country on your once in a lifetime journey from national park to national park with the comforts of home.
Each one of these units should give you a 20% buffer on your towing capacity if your rating is 5,000 pounds. Make sure to check the stats for your specific vehicle and if you have the proper accessories needed such as upgraded transmission cooler, etc. These units are not the only units that can be towed with a mid sized vehicle, but have been our top due to their better floor plans as well as bathroom and kitchen advantages.
Another thing to keep in mind with these vehicles is pricing, one may be considerably more than another. You will need to determine if the higher cost justifies the added features. From what we have seen from touring these RV's the Winnebago, Jayco, RPod, and Flagstaff are higher quality than the Coleman, but there is a bit of price difference.
The best bang for your buck on this list is the Winnebago 1706FB as it comes with a full size fridge, dual axles, heated and enclosed underbelly, lots of storage, the most CCC, integrated roof ladder, TV, and outdoor shower. This unit is only good for a couple with the possibility of a child on the dinette.
We can go on and on telling you what we like in a trailer or our favorite features, but the moral of the story of this article is to get out and look at these units for yourself. Look at the door orientation, awning size, bathroom size, storage options and find the right trailer for you.

Get MORE out of The Savvy Campers Directly to your Inbox!
Be the first to be notified about FREE tips, hints, coupon codes, and email-exclusive information. All for FREE!