When you return from a long trip in your RV, it's tempting to get your pressure washer and clean the rig while thinking about the amazing experiences you've had driving it. But is it really safe to use a pressure or power washer on your RV's roof?
It is not okay to use a pressure washer on an RV's roof because it can damage the rubber or fiberglass. Pressurized water can also seep into cracks and cause water damage. Pressurized water can also slice off the caulking and sealant around the vents and AC. Always use hose water to clean your roof.
In this article, I will discuss why it is not a good idea to pressure wash your RV's roof and what methods you should use to clean it instead. I will also briefly go over some tips to help you maintain the overall condition of your RV's roof. 
Why You Shouldn't Pressure Wash Your RV's Roof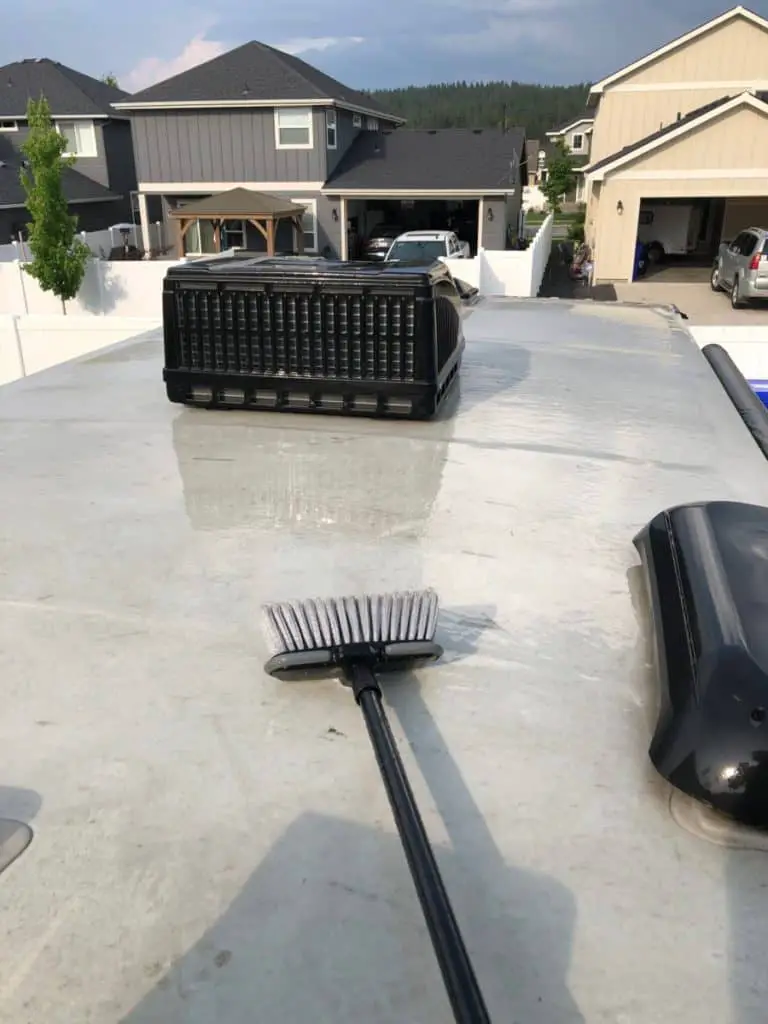 The most common material used on an RV's roof is rubber, followed by fiberglass. Both materials are prone to damage when cleaned with a pressure washer. Although there are specific models of washers designed for RVs, most people don't know how much pressure can safely clean their RV's roof. 
If you don't understand the product specifications of your power washer, you could end up doing costly damage to the RV's roof. You can slice off the rubber membrane and, as mentioned, cause damage to the caulking and sealant used around the air vents and AC.
When this happens, water will penetrate through the roof, and you'll experience leakage inside the RV, which is not at all ideal since it can further damage your rig's interior. Always refer to your owner's manual to re-acquaint yourself with proper cleaning procedures. 
In the case of a fiberglass roof, using a pressure washer for cleaning can break it. It will cost you dearly to get it repaired, and it might not offer the same level of durability. 
Moreover, many people almost never use power washers on their vehicles because of the possibility of water making its way where it's not supposed to go. 
The stream of water is so strong that it can get into crevices and cracks and damage critical electrical components like wiring and parts that require grease. Water can also make its way into deep cracks where it will slowly rust the metal.
How Should You Clean Your RV's Roof?
The best way to wash the roof and your RV as a whole is by hand. Use the good old elbow grease. While it takes a lot of time and effort, it will prolong the life of your vehicle and keep the water from damaging it. You won't have to pay for unnecessary repairs that could have been avoided altogether. 
Also, it's essential to refer back to the owner's manual to check the weight your roof can withstand before you climb onto it for cleaning to help avoid roof repairs and medical bills. 
Cleaning a Rubber Roof
A rubber roof requires a little extra cleaning effort than fiberglass, but it's completely manageable. Before you start the cleaning process, ensure that the rubber isn't cracked or damaged. If it's in good shape, proceed with the steps below: 
Use a broom. A soft broom will be perfect for cleaning any debris and leaves off the roof before applying water.
Avoid cleaning solutions that can damage the rubber. Stay away from cleaning products that have petroleum or citric ingredients. Mix the solution with water in a bucket. Use a good cleaner and conditioner like our favorite here.
Start scrubbing. Pour the solution on the roof and start scrubbing with a mop or a soft-bristled brush. Work one section of the roof at a time, so the solution doesn't dry up. 
Rinse the solution. Use clean water to rinse the solution and clear any debris from the roof. Have someone use a low-pressure washer with pressure between 1000-1300 PSI (6.9-8.96 mPa) to clean the sides of the RV to avoid streaking. 
Cleaning a Fiberglass and Aluminum Roof
A fiberglass or aluminum roof is relatively easy to clean since the stains can come off quite easily than a rubber roof. Follow the steps below for a cleaner RV roof:
Dry clean the roof. You can use a blower or a brush to clear any debris before moving to the next step.
Use soap with water. Use any gentle soap and mix it with water to scrub down your RV's roof. Baby shampoo works great since it doesn't contain any harmful chemicals. 
Rinse the side walls. The mixture will sweep down the walls of your RV, and you need to rinse it off to avoid streaking. 
Use a microfiber cloth. Any soft cotton or microfiber cloth works best to dry out the roof.
Conclusion
Your RV's roof is made of rubber, fiberglass, or aluminum, requiring extra attention. When cleaning it, you need to be mindful of the fact that you can damage it if you use a pressure washer. Always wash it by hand or low-pressure washers and use a solution without chemicals. 
Get MORE out of The Savvy Campers Directly to your Inbox!
Be the first to be notified about FREE tips, hints, coupon codes, and email-exclusive information. All for FREE!