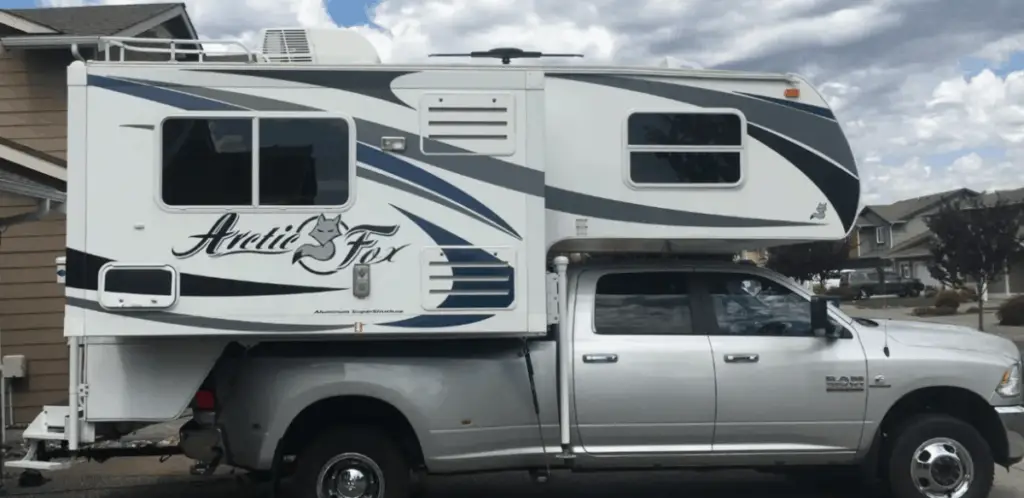 Truck campers are a unique type of recreational vehicle that can be attached and transported in the back of a pickup truck. In most cases, truck campers do not have VINs and most states do not require registration, titling, license plates, or insurance. However, approximately 10 states do have special requirements, and regardless you may want to obtain insurance for a truck camper. We will go over the most common FAQ's for Truck Campers so you are better educated when you go camper shopping.
Truck campers are small, but they have many advantages including ease of transportation (and parking), gas mileage, ability to tow additional vehicles, ease of storage, and low cost. Most truck campers are actually considered cargo, not technically recreational vehicles. This classification changes the legalities and ownership requirements, and makes the truck camper unique from other types of travel trailers.
Different states and countries have different requirements, which will also be determined by the age of your truck camper, and if it is permanently or temporarily mounted to your truck. If you live outside of the U.S., you must check your country/regional requirements.
Here is a guide with basic information to answer your important truck camper ownership questions, and get you safely and legally on the road.
Tip: The following information can vary by state, so make sure to check your individual state laws! If you travel outside the state, follow the laws of the state you live in, and consult the Department of Motor Vehicle (DMV) there. The RV Industry Association has a helpful guide to state requirements regarding truck campers (from 2017), which is a great starting point.
Do Truck Campers have VIN's?
VINs or "Vehicle Identification Numbers" are issued to most vehicles and include 17 characters that represent information about the vehicle (year, model, manufacturer, place of origin, etc.). This identification number is useful in tracking the history of the vehicle- including accidents, recalls, and other types of damage. Click here for a guide on how to read and identify your VIN. The VIN is located on a sticker on the vehicle (check the window on the driver's side).
Since truck campers are typically considered cargo (not vehicles), many do not have VINs. Alternatively, most of these types of campers do come with a Certificate of Origin that includes an ownership number, as well as a serial number. If necessary, these other numbers can be used in place of a VIN when registering a truck camper (if you're in one of the few states that requires registration, see "Do Truck Campers need to be registered?").
If your camper does not have a VIN and you need or want one, you can obtain a VIN through the DMV (this is typically true for all types of trailers!). The process for obtaining a VIN varies by state, but can include an application, inspection of your truck camper, proof of ownership, and various fees. To look up an existing VIN you can visit this website and access additional information about your vehicle.
Tip: A note about age- VINs were only standardized in the 1980s, so many older and vintage RVs (all types) won't automatically have VINs.
Do Truck Campers need to be registered?
Once again, this depends on the state. If you're in a state that considers truck campers to be cargo, then no, you do not need to register your truck camper. If you're in one of the few states that classifies a truck camper as a vehicle, then it does have to be registered at your local DMV. Approximately 10 states have some form of requirement or registration option for truck campers.
Registration is completed either annually or one-time, and will come with a fee (or annual fees).You will need proof of sale, and usually a title and/or VIN. You may also need proof of insurance coverage, depending on the state and circumstances (see "Do Truck Campers need insurance?"). Some states require registration within a certain period from purchase or moving (i.e. 30 days). Make sure to check with your DMV for the requirements and timeline.
Tip: Most DMVs offer copies of all applications on their websites, so you can complete them online or print them ahead of time. This will save you time, aggravation, and general DMV hassle.
Do Truck Campers need Titles?
A title provides proof of vehicle ownership and information about the vehicle. Titles should be kept by owners, however some are kept by banks if a loan is taken out to purchase the vehicle. Titles are passed to buyers when they purchase a truck camper, either from an individual seller or from the dealer. Since truck campers are usually not considered vehicles, many do not have titles. In the U.S., approximately 8 states require titling for truck campers, while the rest do not.
If your camper did not come with a title, then you can get one from the DMV, but you will need a VIN or Certificate of Origin (from the manufacturer). Because most truck campers do not have VINs, the later will be important. Alternatively, you can go through the process of obtaining a VIN first. For the DMV, you'll need to complete an application and pay a fee (no surprise there!). If you have or obtain a title keep it in a safe place so you don't have to go through this process again!
Tip: When purchasing a used truck camper make sure you receive a title if you're in a state that requires registration. If not, it is still a good idea to receive a bill of sale to prove the purchase and your ownership.
Do Truck Campers need license plates?
This question requires a two part answer. In states that do not require registration, you do not need a separate license plate and license plate number for your truck camper. However, if the camper overhangs your truck's license plate, then you could have a problem in many states, because license plates must be visible. You can put your truck license plate on your truck camper or you can get a second license plate and attach it to the camper.
In states where you need to register your truck camper, the camper will have a separate license plate and number. You must go to the DMV, fill out paperwork, prove ownership of the truck camper (using bill of sale and title), and pay a tax and fee. This allows the DMV to track your registration and tax you. For specific guidelines by state, check out the RVIA guide to licensing.
Tip: License (as well as registration and title) fees vary by state.
Do Truck Campers need insurance?
Truck Campers in general do not require insurance (although once again, this is state dependent). This is not just a policy for truck campers, but for all non-motorized RVs. In addition to state differences, another factor that dictates insurance requirements is whether there is a loan on the camper. When there is a loan/financing involved you will usually need insurance to cover possible losses.
If you want to insure your truck camper this can be done through most insurance agencies. Insurance is a good idea not only in case of accident, but also for theft and other types of damage. Your existing truck policy may already cover towed vehicles and/or cargo, but it is important to double check by contacting your insurance company.
If your tuck policy does not cover your camper, many companies allow you to bundle additional insurance in with your auto or home policies, in order to cut costs. Another factor to consider is if you're truck camper is stored outside of your home or vehicle; make sure you indicate this when choosing your insurance.
When you are checking into the insurance policy you have and what it covers when you are traveling, make sure you are covered when the camper is not connected to your truck, chances are, you may not be. Also, check to find out if the insurance you have covers theft of property inside of the trailer, or other items.
Chances are, you will want a separate policy for your camper to protect it from other damages besides while connected to your truck.
Tip: Shop around for insurance to get the best rates, and do some research online or through word of mouth for the best coverage. Consider comprehensive plans, especially if you use your truck camper often!
Pickup & Go
Truck campers typically have less requirements than other types of travel trailers and motorized RVs. However, the bottom line is that you need to check legalities, guidelines, and procedures by state. It is always good practice to have some kind of proof of ownership, even if you're in a state that classifies truck campers as cargo.
Similarly, it's a good idea to have insurance, even if it's not required and you don't have a loan. This will save money and headaches in the future, and will keep your investment safe from weather damage and other drivers!
Ready to buy a truck camper? They are a great and economical camping option. Choose one that fits your pickup and decide if you want a hard-sided or canvas "pop-up" style camper. Brands like Arctic Fox, Capri, and Hallmark offer a variety of models. And don't forget to check the payload weight capacity of your pickup truck!
If you have a travel trailer or are considering purchasing one instead, check out our similar guide for travel trailers.
Get MORE out of The Savvy Campers Directly to your Inbox!
Be the first to be notified about FREE tips, hints, coupon codes, and email-exclusive information. All for FREE!