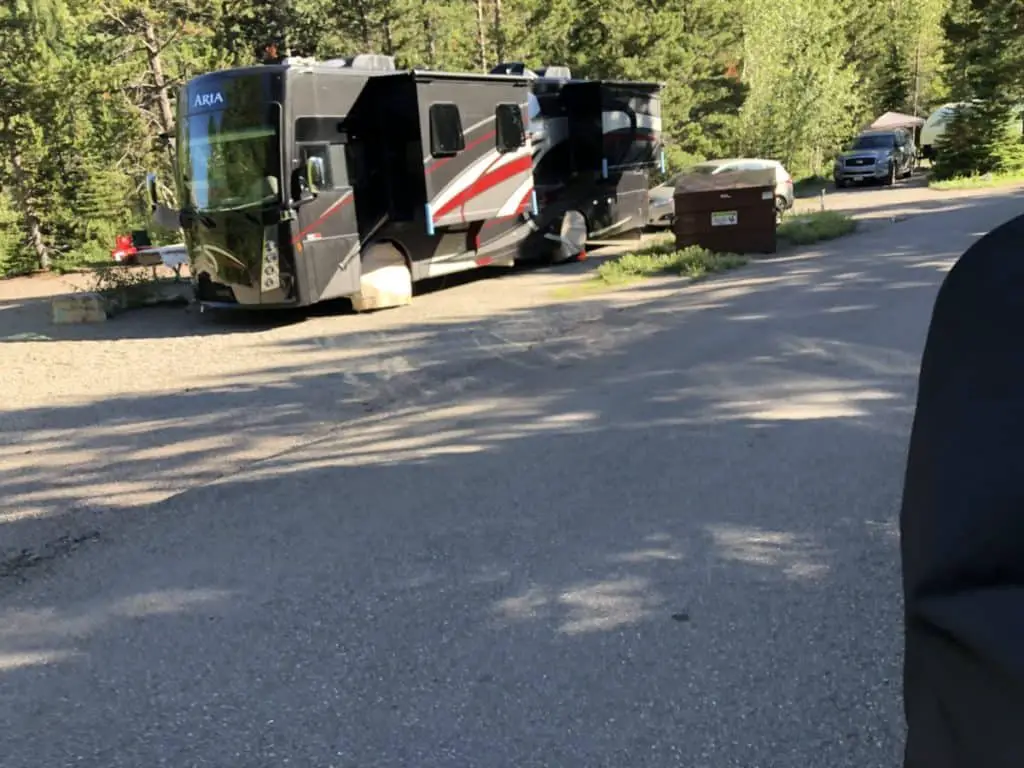 Class A motorhomes are the largest type of motorhome available. They can be built on a motor vehicle frame, a commercial bus frame or a commercial truck frame. Most Class A RV's have at least two slide outs which gives you more living room. Usually they have plenty of room to sleep four people or many more easily. You can tow your car behind this motorhome so that you do not have to move it once you have settled down at a campsite. If luxury is what you want, then this is the motorhome for you.
How much do class A RV's cost to own? A class a RV will typically cost between $100-500 per month to own excluding your payment if you have one. Other items you need to pay for include storage, insurance, tires, batteries, maintenance, and other items.
There is always extra costs not matter which motorhome or travel trailer you choose. Additional costs to own a Class A RV should be taken into consideration prior to purchasing and usually will include the following.
Sales Tax
There will usually be a sales tax on the motorhome. The sales tax will depend on which state you live in. If you live in Montana, Delaware, New Hampshire, Oregon or Alaska you are lucky and will not have to pay sales tax as these states do not have a sales tax. In some states you will pay as low as 4 percent and others could be as high as 10 percent. For a fifty-thousand-dollar motorhome you will pay an additional three thousand dollars in a state with six percent sales tax, and five thousand dollars if paying ten percent. Sales tax will need to be paid when you purchase the motorhome.
Insurance
Insurance is a must have if you have a motorhome. Lenders that carry motorhome loans will require that you carry insurance that will cover the cost of the RV should you have an accident or theft. The cost of the insurance will depend upon how much your motorhome is worth as well as many other factors such as driving history, deductibles, and limits.
Insurance will also cost more if you use the motorhome to live in rather than just using is periodically. If you live in your motorhome, you will not need homeowners or flood insurance. If you have a bad driving record your insurance will be higher. Some insurance companies use your credit score when considering the costs of insurance. With poor credit you may also pay a higher price.
There are some items through insurance that may help out in other areas, such as roadside assistance, rental protection, replacement vehicles, etc. Discuss your situation with your insurance agent to find out more.
Maintenance
Maintenance costs should also be taken into consideration when purchasing a RV. There will be regular upkeep required on your motorhome as well as serious problems that can come up. For example, right out of warranty, our water heater circuit board went out. The cost to replace was $180, luckily we contacted the manufacturer and let them know the trouble, and they replaced free of charge.
When considering this cost, you should plan on spending hundreds of dollars every year just tor regular upkeep. Regular upkeep can include tires, batteries, engine maintenance, oil changes, or anything else that is on or in your motorhome.
You will want to have enough money in savings so that, you can handle anything that come your way. Maintenance costs also include oil changes, alignment, tire rotation, and tune-ups. These need to be done regularly in order to keep your motor home running correctly. Not performing regular maintenance could cause your motorhome to break down or cost you much more to operate.
There are other things that will need to be replaced such as the carpet or the toilet if it breaks. Replacing carpet can run upwards of seventeen hundred dollars while the toilet will cost around two hundred dollars if you do it yourself. You need to think about all of this prior to purchasing your motorhome.
Tires
Tires have to be replaced after a certain number of miles as they are a wear item. These alone can cost around twenty-five hundred dollars.
At the time of purchasing your motorhome check out the tires. Your motorhome may be new, but this does not mean your tires are. On the back of the tires should be a 4-digit number indicating the month and year the tires were manufactured. Make sure this date is not several years old. Also make sure that your tires follow the weight and load capacity that are recommended for the motorhome you are looking at.
Gas
This is a regular expense. The class A motorhome will only get about 4 to 10 miles to a gallon of gas. If planning on long trips this could run into a huge expense. If you are planning a trip of one hundred miles one way, you will need ten to twenty five gallons of gas. At, three dollars a gallon you can plan on spending at least $30-75 dollars per 100 miles one way or $60-150 round trip.
The longer your trip the more gas you will need so plan on spending more. Before you even start your journey, you will have enough money in the bank to get you where you want to go and then back home. Be sure to know how much gas your tanks can hold. Then if the indicators fail, you will have a feeling of how much gas you will need in order go a certain distance.
Generator
Most Class A RV's come with a preinstalled generator, in the case that yours doesn't or you purchased used and the generator is broken, you will probably need a generator. It is a necessity just for running the television, or any other 110v devices such as a residential refrigerator. A larger generator will be needed if you want to run the air conditioner as well as other items at the same time.
If you have the choice of upgrading, you will want to purchase this at the same time as purchasing the motorhome. Be sure to purchase one large enough to give you plenty of power with which to operate your motorhome. These will cost over a thousand dollars or more. When adding a generator to your budget you will want to include the maintenance needed to keep it operating flawlessly. There are three types of fuels that generators use.
Diesel
Liquid propane
Gasoline
Depending on the fuel of your RV, usually the fuel type on your generator matches. Diesel burns the cleanest and produces more power. Liquid propane produces ten percent less power but lasts longer. Gasoline is the cheapest and you can find it anywhere.
When you fill up your motorhome, you can also fill up your generator as the tank is usually the same. Typically generators will not run when you have 1/4 tank or less of fuel.
Batteries
Motorhome batteries only last 3 to 5 years depending on use, so you need to budget to replace them when they go out. You will need to replace batteries at the same time, it is not good to have one new with used batteries. The new battery will quickly degrade to match the performance of the used battery. Batteries can cost from $80-$200 each depending on the quality.
Keep your RV fully charged and follow the manufactures instructions on taking care of batteries as they can be sensitive. Since the battery will cost several hundred dollars, you will want to make sure that you have the money should you need to buy the battery when purchasing the motorhome or replacing it when it goes out. Do not drain your batteries completely as this will shorten their life span. Lead acid batteries can be drained down to 50% and Lithium batteries can be drained to 20% safely. If you drain further, you can expect permanent damage.
Licensing Fees
When you buy your motorhome, you will need to license at the time of purchase. There are different types of license fees which can include:
Title fees
Registration fees
Lien fees
Government fees
Dealer fees
When purchasing a motorhome, you will have to file the papers needed in order to put the title in your name. The lender will be named as the lien holder if there is a lender. Some states will have fees required by the government that have to be paid when registering your motorhome such as a title fee or transfer fee. Some dealer ships will have fees that have to be paid such as a dealer documentation fee. These fees can include preparation of the required documents. Some of these fees will have to be paid at the time of registration others may be included in the amount financed. These fees can range from $100+ depending on what is required for your specific purchase.
Storage
If you have a place where you can place your motorhome when not in use, you are in luck and can save some money. If not, then be prepared to pay storage fees. This is another cost that you should add to your yearly fees for having a motorhome. Storage can range from $50 for outside storage to $300+ per month for indoor.
Even if you have a space to park your motorhome your neighborhood may not allow it. You will need to research your neighborhood rules and regulations. The only time you do not have to worry about storage fees is when you use your motorhome for living. Then you just must worry about the next place you want to visit.
You can find campgrounds, rural government land or even in the overflow parking lot of major stores. Some will require fees and others will be free. Read our article on storing your RV at home to learn more.
Propane
While this is one of the cheapest items to budget for, you still need to include it. If you only use it for cooking and heating hot water, your RV will not use much propane. If you use it for heating it will cost more.
When adding propane to the budget add the cost of using it for heating. It is better to over budget than not budget enough money. Money saved on propane can be used for other costs. Propane can come in 20-30 pound bottles, or even be in a built in tank in your RV.
Your bottles will need to have the required regulator on them when using. It is best if you have dual tanks to only run on one bottle at a time so you have an extra bottle so you can quickly change them over at the regulator and then have the empty ones filled. This will keep you from running out unexpectedly.
Depreciation
When you drive a new motorhome off the lot, it automatically depreciates typically about 20% of the purchase price. A motorhome depreciation does not level off until it is about five years old. They base depreciation usually is on the year of manufacture and not the mileage.
Buying used is smart as the RV has already started to depreciate. This article will help you determine what a fair price to pay for a used private party RV is.
Conclusion
All of these other costs should be taken into consideration when choosing a motorhome. This will help you be prepared for your upcoming costs of Class A RV ownership and help you stay within your budget.
Get MORE out of The Savvy Campers Directly to your Inbox!
Be the first to be notified about FREE tips, hints, coupon codes, and email-exclusive information. All for FREE!