When you first purchase your travel trailer, you will recognize that there are several items you need in order to have a successful camping trip. These items range from necessities such as a sewer hose to luxury items such as camp chairs or generators. Through this article we go through all items you will need to stock your travel trailer for your camping trips this summer and for years to come.
We own most of this gear as many of these items are required to tow, or live in your camper. This gear guide is not the fully stock your RV with forks and towels, but is the gear you probably won't have lying around the house that you will need to buy. Keep in mind, you will need to have soap, plates, forks, and other items not mentioned on this list to have a successful camping trip.
RV Water System Must Haves
The water system in your RV is one you need to take care of as you need to keep it clean and working properly to ensure you are able to have fresh water on demand to drink, shower, or clean up with. You need a few items in order to fill your tanks with clean water, as well provide ample clean city water to your trailer.
RV Drinking Safe Hose
A hose is needed both to provide clean water to your fresh water tank, as well as if you have a city water hookup. We found this hose to be simple and work best for us to provide us water to our travel trailer. It is always stored with end to end connected as to not get any dirt or contamination within the hose. We carry two hoses within our RV to ensure we can always connect to a water source even if it is quite far away.
Water Pressure Regulator
A water pressure regulator is a must have item and you do not want to leave home without it if you are planning on connecting to a city water source. Many city water connections are over pressure for what RV lines can handle and can vary when other RV's turn on and off their water. If your water is over pressurized, the pipes within your RV can burst and leave water everywhere within your RV. Always turn the water off at the source if you are leaving your RV. The water pressure regulator reduces pressure to a safe amount and is available in this easy to use model, or an adjustable one. The adjustable water pressure regulator is great if you have a filter also reducing pressure.
RV Water Filter
A water filter should always be used to provide clean filtered water to your RV tanks when filling for a boon docking adventure, or through your city water connection at your local RV park. You never want to introduce any bad water or contaminants to your system if you do not have to. Keep in mind, this will reduce some pressure, so on some city water connections, you will want an adjustable water pressure regulator. We use this model which comes with a flexible end adapter so the connection is not so rigid.

90 Degree Elbow Adapter
A 90 degree adapter is always good to carry around. We attach it directly to the city water connection port on our travel trailer so we do not have any stress as the connection port is plastic. This allows the hose to fall straight down and not have any pressure on the port or kinks in the hose.
Water Bandit
We have used this simple device several times to add water to our fresh water tanks. At some campgrounds, they do not have threaded hose bibs. This small device allows you to connect a hose to any hose bib, even with damaged threads to fill your freshwater tank. You will need to hold this on the bib, so this is not a permanent city water solution.

Rubbermaid Storage Container
We keep a clean single use Rubbermaid container which fits in the basement of our RV to keep our water supplies clean, organized, and out of the way of other items. The last thing you want is your hoses getting tangled with chair legs and falling on the ground getting dirty.
RV Sewer Items
The sewer system also has its share of accessories it needs in order to function properly. If you use your bathroom, shower, sinks, or anything that dumps in your tanks, you will need the following items:

Sewer Hose
A sewer hose is needed to attach your dump tanks to the sewer dump station at your campground. You will want to get a quality sewer hose with good attachments as you DON'T want an accident while dumping your tanks. TRUST ME! We have found this kit to work great for us and it comes with two hoses in case your sewer dump is further away than 10 feet.
Clear Elbow
Along with a good dump hose, you want a clear elbow to see what is going out of your RV. The kit recommended above has an opaque elbow, but a clear is better to know what is going on. This elbow we recommend attaches seamlessly to the kit recommended above.  I try not to watch it too carefully, but you can check to make sure water is flowing and know when to close your valves.
Septic Safe Toilet Paper
The black tank in your RV is something you need to take great care of as not to clog it or get false readings on your capacity gauges. Using toilet paper specifically designed to break down is important as to not cause an ongoing problem of a clogged dump tank. We do not use the expensive "cheap" RV toilet paper, but we make sure the stuff we do use is sewer and septic tank safe.

Nitrile Rubber Gloves
When doing the dirty deed of dumping the tanks, you always want to make sure to wear gloves as protection from what you could be touching. We like good quality nitrile gloves so we don't have to deal with rips or tears. We also use eye protection from splatters.

Black Tank Flush Hose
If your RV is equipped with a black tank flush system, you will want to use a separate hose that NEVER touches the fresh water system. Even though this technically doesn't touch feces, it comes in contact with an item that if pressurized backwards does. We use a simple cheap hose for this task.

Tablets for Black and Grey Tanks
We throw a tablet in our tanks about every other flush to help provide the necessary bacteria to naturally break down items in the black tank as well as prevent smells. These tabs simply flush down the toilet and get to work. For more information on black and grey tanks and how to keep them clean and how long they last, read our posts about black tanks and grey tanks here.

RV Power System Accessories
The power system not only provides you 110v power for your devices when you are plugged into shore power, but it also charges your batteries for your trips off of the grid. The below items ensure a safe reliable connection to whatever type of power plug in the campground provides.
Power Cable
A power cable is your first connection to the world known as 110 volt power. This cable needs to be of adequate gauge for the cable length. Most RV's come with a cable, but if you have a nick or damage to your cable, you will want to replace immediately. If you leave a exposed damaged wire, someone could get shocked by touching it, or your trailer could become a shocking hazard if improperly grounded. We have found these cables to be very good if you have a 30 amp trailer and these if you have a 50 amp trailer.

RV Surge Protector
A surge protector will need to be used any time you plug into 110 volt power. No matter what campground, house, generator, etc you get power from, you want to make sure this power is quality and that a sudden surge will not take out your trailer. A surge protector will also protect and inform  you in case a power supply is miswired. Read more about surge protectors and about our favorite at our article here.

Adapters
You may need different adapters to plug in your trailer, such as if it is a normal household plug, or if the campground only has a 50 amp plug in adapter. These two should get you buy in both situations.

Generator
Having a generator while off grid can be a lifesaver if you are in a cold or hot environment. Having one that can run your AC as well as charge your house batteries is almost a must have in this day and age with all of the electronics we carry. We love this generator as it is large enough to run a 15k a/c unit as well as has remote start so you can stay in your toasty RV in the morning, start your generator in your bathrobe, and make your coffee.

Gas Can
Along with a generator, you will need to bring along a gas can to refill your generator when fuel runs out.

Extra Oil
Look at your user manual, and make sure to bring some extra oil in case your generator starts to burn more. If you are low on oil, you should not use your generator, so keep a small bottle handy.

RV Cooking Gear
Cooking in or out of your RV can be an awesome experience for the whole family. We love when it becomes time to cook, because hey, there is nothing better than food, unless you are having great food in nature.
BBQ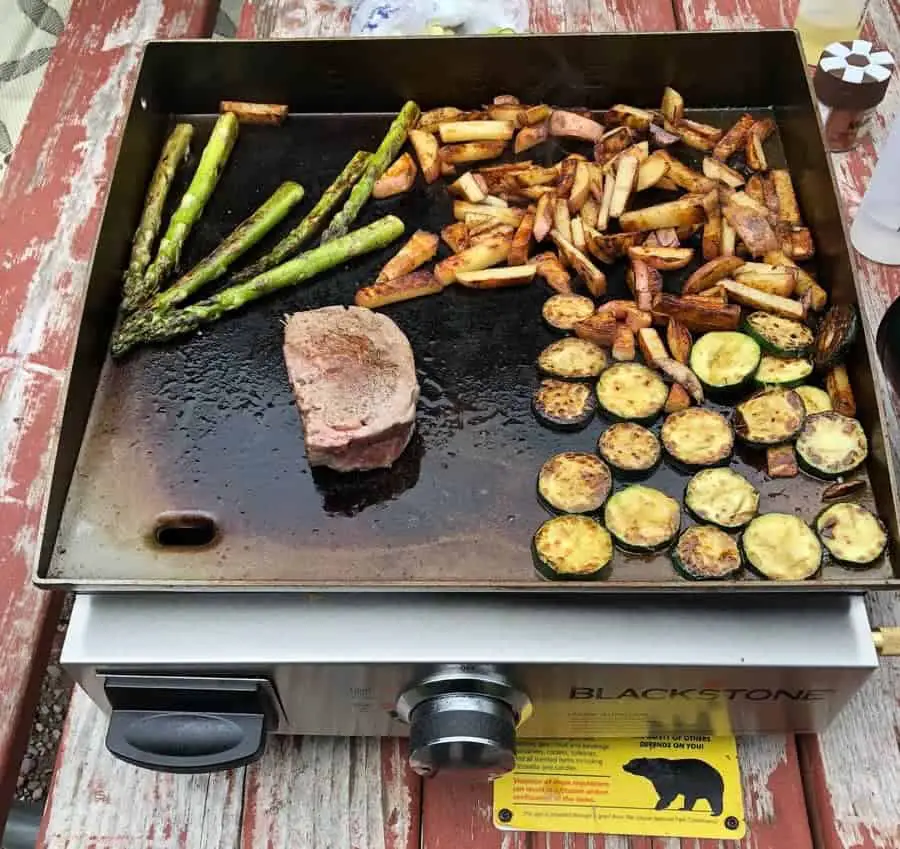 Having a grill we can cook outside with is a must for us. It is great to sit around the camp table while watching some burgers sizzle. We prefer to have a griddle as it fits perfectly in our storage compartment where a normal bbq may not fit. We also like to use it as you can cook everything on it. Have you tried to cook an egg on a normal bbq? It falls through the cracks! You can read more about our favorite grill and why we picked it at our article in the recommended gear over here.
Utensils
Along with your bbq, you will need some cooking utensils. A spatula set, tong set, knife, should be enough to get you buy on your next outing.
Cast Iron
We never leave home without our cast iron. Our favorite pan is this one which comes pre seasoned as well as is indestructible.

Travel Trailer Outdoor Gear Guide

Camp Chairs
We prefer fold up chairs like this one as they pack down very small to fit in our backpack for a hike as well as are comfortable around the fire. These are very sturdy and are available in swivel or rocking styles. We would not go back to our normal folding chairs after having these.
Hammock
Having a hammock at your campsite is basically an upgrade to life. You can read, nap, sit, swing, and just relax in your hammock. We have found this model to be great for us, as well as these straps to make hanging easier.
Table
Our travel trailer came with a table we can use indoors or outdoors. As it is a bit clunky to move around, we are trading it in for this model which folds up and packs nicely. A table is used to eat, cook, play games, and set items on. The benefit to having this table in addition to a picnic table that your campground may have is that this is movable whereas a picnic table may not be.
Camping Rug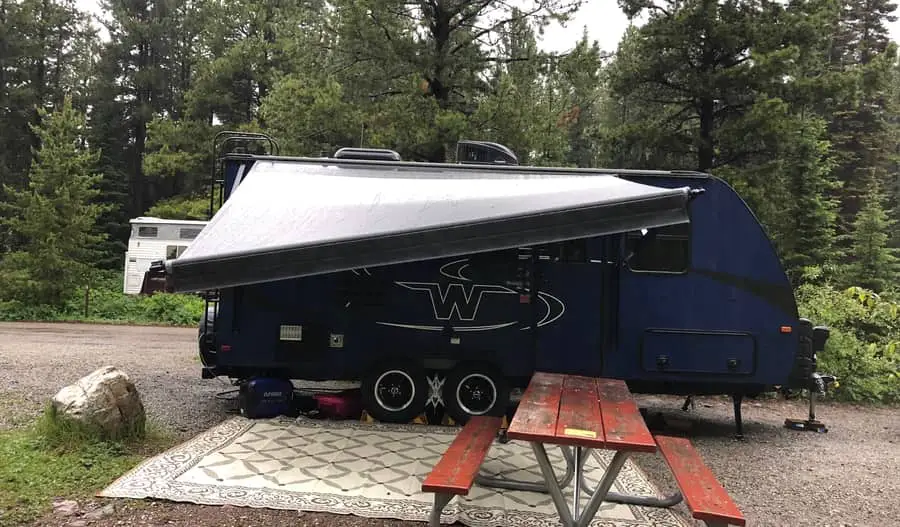 A rug outside of your trailer saves your interior from getting too dirty and allows you a place to have a clean area to take off shoes or play on. We like this model which is 9'x12' and provides lots of space for our little one to play on. We have used it in the rain to keep mud out of our walkway as well. These fold up into a rectangle for easy underbed storage.
Travel Trailer Towing Gear
Brake Controller
You absolutely have to have a brake controller when towing a travel trailer. It is not only for your safety and the safety of others, but your vehicles brakes are not designed to solely stop an 8,000 pound trailer without significant wear or warping. Read more about our favorite brake controller in our guide here.
Weight Distribution Hitch
We use a weight distribution hitch with sway control as it is a must have for our safety while towing. We prefer this model, but you can read about the top 4 we recommend at our article here.
Spare Tire
Make sure you always carry a spare tire as travel trailers are prone to blowouts or flat tires. Also make sure your spare tire is adequately aired up in case you do have to use it.
Wheel Jack
In the case that you do get a flat and have to replace a tire, make sure you have a way to jack up your trailer to replace your tire. The stabilization jacks are not meant to jack up your trailer so don't even try. We like this simple jack which can also be used under a stabilization or under the tongue jack in case of soft surfaces so they don't sink.

Jump Starter
Getting a dead battery in the middle of nowhere needs to be the last of your worries. By carrying around a portable jump starter, this worry will go away. We like this model as it provides 1,000 amps to start your dead vehicle.
Travel Trailer Parking Gear Guide
Parking your trailer will also need its set of accessories which are easily stored.
Wheel Chocks
Wheel chocks are to prevent your trailer from rolling when it is disconnected from your tow vehicle. We also use them when we are connected at a stop on a hill or incline. Read more about our favorite wheel chocks under our recommended gear page.
Levelers
Most campsites are unlevel, therefore you will need a way to level your trailer. There are two types of levelers, blocks and ramps. We have both. Read our article about which ones we love and why we have both.
Conclusion
In this article we went over several must have items you will need at some point in your travel trailer experience. We have done our research and provided you with the best information we can on each of these items. Yes, there are more items you need on your travel trailer checklist you will need for each camping trip, but these are the basics you can leave in your trailer and will last you for years to come.
If you can think of any basic gear we forgot to put on this list, please leave a comment below so we can provide the most comprehensive travel trailer gear guide available on the market today.
Happy Camping!
Get MORE out of The Savvy Campers Directly to your Inbox!
Be the first to be notified about FREE tips, hints, coupon codes, and email-exclusive information. All for FREE!