There are many accessories available for travel trailers or camping in general. We have found our favorite must have accessories after experimenting with different models and are sharing them with you. From seating to cooking, these accessories are the perfect gift or treat to buy yourself.

Outdoor Rug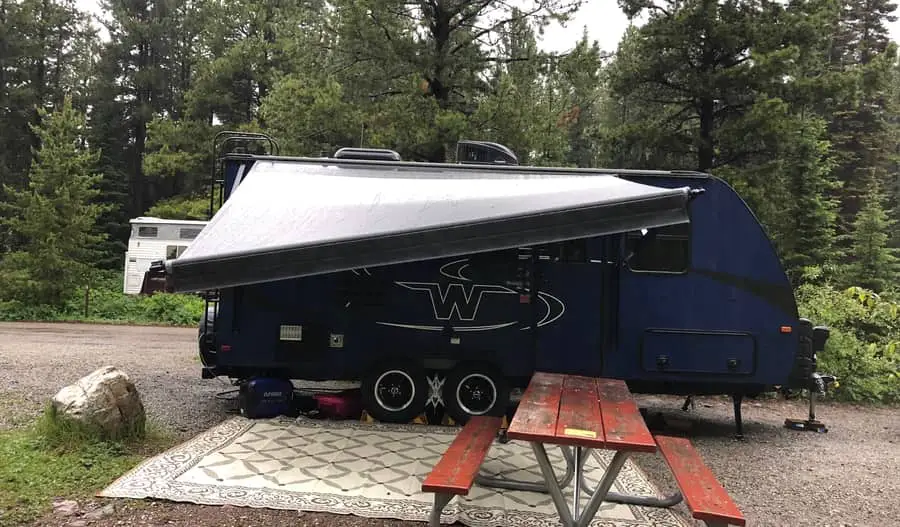 One of the most important accessories for our travel trailer has been our outdoor rug measuring 9'x12'. This gives us a clean area under most of our awning, a good spot to put a picnic table, or take our shoes off before we wander into the trailer. This rug keeps our trailer much cleaner while providing a clean area for our little one to play.
We love that it folds up into a small tight rectangle for storage under our bed. Our mat is reversible in case we want to choose the dark or light side for that day. Durability has been good as we have no rips or tears even though we place it on rocky surfaces. A camping mat is a must have to keep your trailer tidy.

Camping Chairs
If you are lucky to have a picnic table at your site, it may not be movable, not fit where you want to eat, or be movable by the fire if you are in a treed area. We carry along some camping chairs which fold up into a tiny package to use by the fire, to relax, and for eating. These chairs are much more comfortable than sitting on a picnic table, and fold up into a small enough package to throw in your backpack.

Portable chairs are perfect to get your socializing on by joining a group campfire, or taking to a neighbors trailer. We used to have the typical folding chairs, but they would not fit in our storage compartment so we had to store them in our trailer and move them in and out every time we parked. These new chairs fold into a small package to quickly store in the basement or even in a cupboard.

Backpacking Hammock
The addition of a hammock to our camping arsenal was one of our best investments. We carry these in our backpack on every hike and make sure to spend some time at our final destination and relax (if there are trees that is). A folding hammock with straps is very lightweight and comfortable. Some campers even use them to sleep in, I am not that daring, but we have seen people use these in bear territory to sleep. Yikes!

We have three different colors to determine whose is whose at our house. We also buy the two person models just in case we all want to get together and cuddle. This strap setup is highly recommended and is required to attach to a tree. Imagine yourself out in the wild, reading a book or napping in your hammock, it can't get much better than that!

Lantern
Light is key when you are camping in the middle of nowhere, or if you get stuck on the side of the road. We carry many different types of lights when we travel, but one of our favorites is a lantern. We have three battery powered lanterns; one which usually gets left on the picnic bench, one that comes with us, and one that stays in the trailer for night light usage as to not deplete our house battery.
It is great when out on a walk at night and we can easily spot our campsite from the lantern that is left on at our site. We use rechargeable batteries to power these so they are very efficient. Battery life is huge when camping, these lanterns seem to last forever as they are LED. Also we do not have to deal with gas or busted filaments like real lanterns have. There is some nostalgia about using a real lantern, but for us, we like simple and easy. These are both.

Travel Trailer BBQ Grill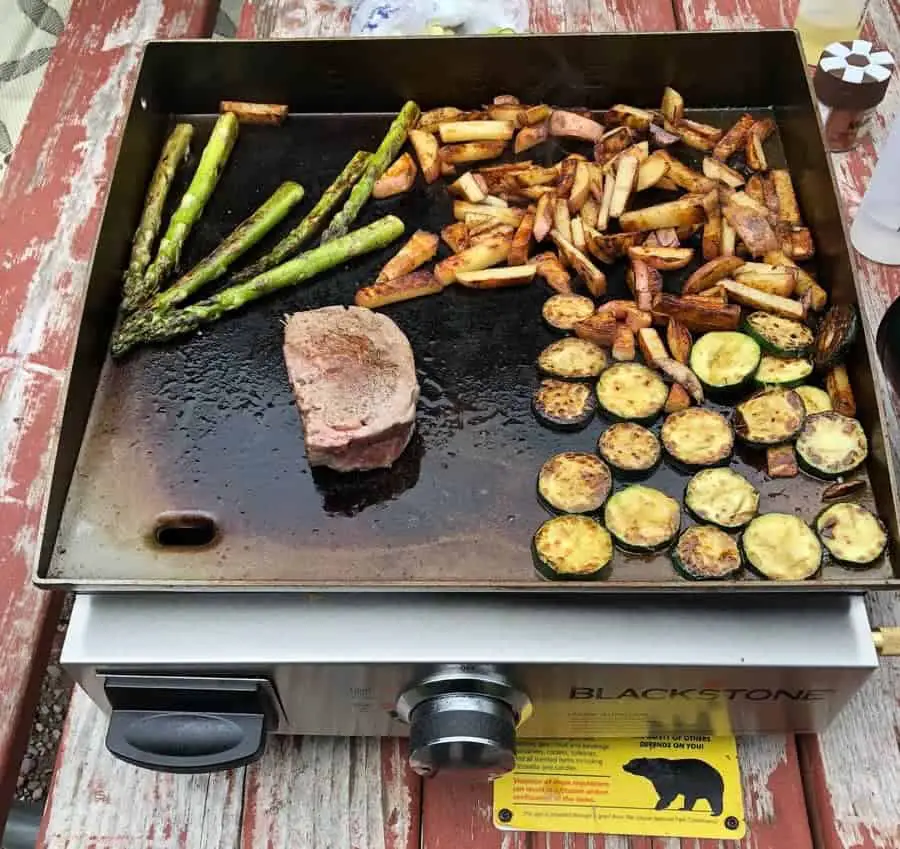 We use our Blackstone griddle to cook many of our meals in the outdoors. By now, you should know that I love our grill, read more about our love for the Blackstone Griddle from our article about it here. From eggs, pancakes, and bacon in the morning to steaks and vegetables at night, this griddle can do it all. The best part is you can fire it up and get a good sear on a rib eye.
We use ours at home on the regular even when we are not at the campground. If you are a foodie, pair it up with a sous vide for the ultimate steak! This unit is convenient as it fits in our "basement" area where other typical bbq grills will not fit due to height. The grill is efficient with small propane bottles, and is even better if you can hook it to your house propane tanks.

Bluetooth Speaker
Camping is half as fun if you do not have tunes to rock out to. We love having a bluetooth speaker when out camping to listen to podcasts, music, and scary stories. Make sure you buy a rechargeable unit which lasts a long time. We do make sure to charge it before we head out as to not run out of power.
Marshmallow Sticks
Having designated marshmallow sticks guarantees you quicker access to a s'more at the end of the day. They eliminate the need to find and sharpen a stick at each campsite. We have extending sticks which fold down to a smaller size in order to not have to store 3' long sticks. When folded, they are about 1' long.
Using these to provide s'mores to the family will guarantee that you are a hit at the campsite. Ours have room for two marshmallows to get quicker access to more s'mores.

Tip: Try a s'more with a York Peppermint Pattie or a Reese's. You will thank me later.

Walkie Talkies
We camp at many campgrounds without cell service and have found walkie talkies very helpful. It is nice to have communication when out of service just in case. Make sure when you get to a campground you ask the camp host what channel they use so you can get in contact with someone in case you have an accident out on a hike.
We use ours when one is off in the shower and the other is at the campground with the baby. In case its rainy, we call and have the other pick up at the shower which is located about ¼ mile away at one of the campgrounds we stay at. Also when we camp with the in laws, we hand one over in case one group goes on a different hike than the other, or a few go out fishing. These come in handy to announce dinner time or if one party is in need of help. We like the rechargeable units so we don't have to go through multiple batteries. Our units have a very long standby time as well. We like the NOAA weather notifications that come across which are helpful in case there is a major storm on its way so we can make way back to camp. Make sure to keep your batteries charged and inside in the winter as not to damage them.

Portable Fire Pit
Some campgrounds will not let you have a fire without a designated area. Most campgrounds provide a fire pit, but some may not. Bringing your own firepit to the party can be your way of obtaining a fire when restricted. The Solo Stove also is smokeless. The inventors created holes at the bottom to encourage airflow to create a smoke free environment. These fire pits are made out of 304 stainless steel and weigh about 15 pounds. These will easily fit in your basement storage on your RV.
There are also specialized pots available which fit directly on the stove providing a seamless cooking experience.

Camping Table
Having an extra table when you are on the road can come in handy in multiple occasions. Weather you want to play a game of cards, have a space to set your bbq, an eating table, or food prep, a folding table can be a big assistance.
We store our table directly behind our couch and we set it up right outside the door as a catch all if we do not need the extra cook space. These can be great to take to another campside if there is a group potluck or event going on. Make sure to write your name and contact information on the back so you don't get yours mixed up.

Awning Shade
If your travel trailer has a retractable awning, you are one step ahead of the game. Tilting your awning can give you a preferable angle to help shade you from the sun's rays or rain. Depending on the heat or suns direction having a shade that can come off of your awning can be quite helpful.
This one extends from your awning down to keep the low angle sunlight out of your face as well as giving you a bit more privacy, which at some spaces is much needed.

Canopy
A portable canopy can make you the campsite favorite if you have a large site or many people to keep out of the rain. This one comes in handy as you can move it around if you are outside of camp at the river to get out of the sunlight, or if you are at the tailgate party trying to stay out of the rain. These fold up into a small enough package to easily fit in your basement storage area or in the back of your vehicle.

Saw
We always make sure to have our handheld saw if there are any overhanging branches we need to cut down on our way into a campsite as not to damage our roofing or side of our trailer. This also makes cutting branches for firewood a breeze.
The Corona unit fits into your backpack or even your pocket if it is long enough for a hike. We always keep ours in our truck for those in case moments. Our favorite will not cut down a 15" round fallen tree across a road, but there are other models that can.

Hatchet
A hatchet is a must have for any camping trip. We always carry one on a hike just in case, but they are mostly used to chop firewood or clear branches out of an area. We have two favorites, the Gransfors Bruks Samll Forrest Axe which is a keepsake that will be cherished generation to generation, and the Fiskars X11 which is a great workhorse for all around campsite work. Both of these units score the highest reviews and following from all users.

Cooler
A cooler may or may not be needed if you have a large fridge with enough space. We like to use ours to have drinks available outside of the trailer so people dont have to track in and out of the trailer for their favorite beverage. We also like it if we go to town for the day and need to keep food cold to bring back to the trailer.
Ours is highly insulated and holds ice for several days so you don't have to worry about your favorite beer going warm on you. For some, you may want a soft cooler, for others a hard sided. We like our soft sided cooler as it is a bit more forgiving when trying to fit into a smaller spot. It also fits perfectly in one of our cupboards to keep it out of the way. We also have a hard sided Coleman, but it does not keep ice very well as it is a bit older. When we decide to upgrade to a new hard sided cooler, we will choose this one.

Stainless Steel Reusable Mugs
Stainless steel tumblers, mugs, and cups have been an upgrade when camping. Keeping your coffee blazing hot on a cold morning is very beneficial to our happiness. Cold coffee is bad especially if you do not have a microwave to warm it up again. On the flipside, these mugs will keep your soda, beer, water, etc… cold for a long period of time on a hot summer day. We have a few versions of these, a coffee tumbler with lid which is great for coffee, a wine glass which works for beer, wine, or soda, as well as a can and bottle cooler which helps keep cans and bottles cold.
This year, we are looking to get a rambler coffee mug to provide more stability at the campground.

Outdoor Trash Can
You may not think you need a good space for trash, but trust me, you will produce quite a bit. Cooking, drinking, diaper changing, and snacks all will produce garbage in this day and age and it is good to have a handy spot to keep it so it is not all over your trailer.
We prefer a collapsible trash can to make it easy to store when we are having a travel day. Make sure to keep plenty of trash bags around to fill it up with. For storage, we throw several bags at the bottom of the trash can so we always have one handy.

Outdoor games
You can keep the kids or family busy with one of these favorite campground games.
Percolating Coffee Maker
Coffee has become a way of life for us. There is nothing better than starting a fire in the morning and using the percolating coffee pot to make a cup of morning joe then sitting back and enjoying the fruits of your labor. We also have a drip pot that we use when we have power available or when we want to start the generator. An Aeropress is also a good option that provides a great cup of coffee.
Get MORE out of The Savvy Campers Directly to your Inbox!
Be the first to be notified about FREE tips, hints, coupon codes, and email-exclusive information. All for FREE!