A popup camper is a great way to either get into camping, or is a popular camping vehicle among camping experts. Here are the top reasons a popup is a great unit. They are lightweight, easy to tow, and easy to store.
They will however, take a bit more time to set up than a traditional travel trailer due to the canvas sides that will need to be unpacked as well as put away every time you take the trailer out or put it away. However, you will save time on setup as they are smaller and easier to maneuver.
How long does it take to set up a popup camper? A popup camper will take a bit more time to set up than a normal travel trailer due to the canvas material. Expect a popup camper to take about 50 minutes to 2 hours and 20 minutes to fully set up and be ready to camp depending on your trailer and other setup.
Steps to set up a Popup Camper
Find Your Site: 10-15 Minutes
The first thing you will need to do to set up a popup camper will be to find your campsite. This may start from your online reservation, or by talking with the camp host and finding an available spot. To learn more about booking a campsite online, we detail it out in our how to article at this link.
This step may take from 10-15 minutes depending on how large the campsite is and how long you have to work with someone to issue you and pay for your spot. If the campground is first come first served, then you can find an available spot, park and start your setup, then fill out your information and pay later.
Park in the Site: 5-15 Minutes
This step should be a little shorter with a popup camper as they will be easier to maneuver around a campground. You will want to assess first where in the site you would like to park, and the most level area.
This step can be as little as 5 minutes if you have a pull through site, or longer depending on how good at backing up you are. To learn more about backing into a tight spot, we've got you covered from our article here.
Determine how far your awning will stick out and if you have slides that will hit a tree. Ensure you can walk around your camper and that it is not too close to any trees to ensure you can get it set up quickly and properly. We usually put a rock where we want our tire to sit to have something to aim for when backing up.
Level your Camper: 5-15 Minutes
Depending on the site you are at, you will want to level your camper. You will use blocks or levelers to do this side to side. For an in depth how to, read this article.
After you are level side to side, make sure your tires are properly chocked and unhitch your camper. Next use your tongue jack to level front to back. A handy 2′ level will help you determine what is level.
When you are fully level all ways, deploy your stabilizer jacks if equipped and you have a solid foundation to start the rest of your tasks.
Extend Camper: 5-20 Minutes
Depending on your trailer, this is the time to pop up your camper to full height. This can be done with your electric or hand winch that came with your trailer.
Along with raising your trailer, extend any slide outs if equipped as well as expand the tent portions of your trailer. Depending on how your camper was made, you may have to manually attach your canvas, or just pop it out and you are done.
Set up Inside: 5-20 Minutes
Once again, depending on your popup camper, this is the time to go inside and extend your bathroom walls or curtains if equipped, set up your table, beds, kitchen, cooler, anything inside that needs attention.
This would be a good time to make your beds or get your sleeping bags out as it is better to do it first thing instead of right before bed when you are tired from a long day of traveling and having fun.
Hook Up: 5-15 Minutes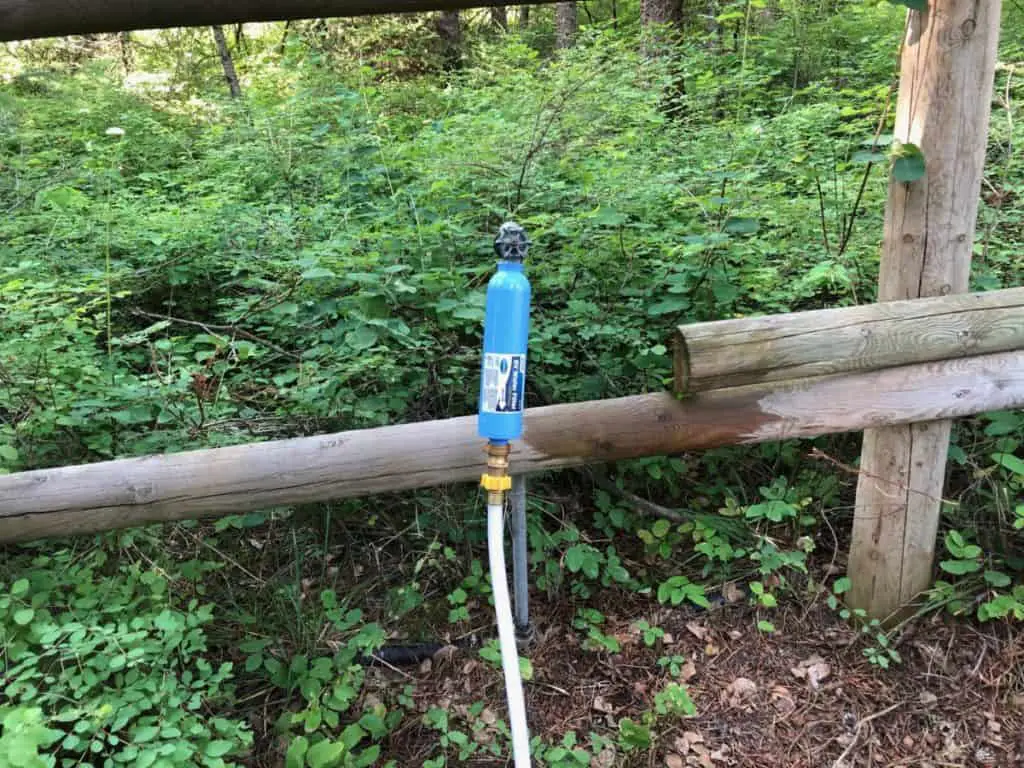 If there are hook ups at your site, you may want to attach your power cable now or set up your generator if you have one and hook up to power. If you are hooking up to shore power, use your surge protector to make sure the power is quality and won't damage your campers electrical. If your camper has a restroom, hook up your fresh water, water filter, watter pressure regulator, and sewer connections so you are ready to go. To learn more about fresh water connections, read our article here.
After you are hooked up you can switch your refrigerator to 110v power as well as switch on other accessories such as a water heater to get going for the day.
Heat Or Air: 0-5 Minutes
Depending on the weather you are camping in, you may want to take time to open your windows to let your camper air out, turn on your heater if camping in the cold, or turn on your air conditioner if equipped to get your camper cooled down.
Set up Campsite: 5-20 Minutes
Most people have other accessories they will want to set up such as camp chairs, grill, outdoor mat, etc. To find our top accessories we recommend, find them over here. Depending on what you have and need to set up, this can take anywhere form 5 minutes to 20 minutes
If you have an awning, you may want to extend it to provide either shade or a covered living area that won't get wet from the rain.
Fun: 10-15 Minutes
Now comes the fun part, get ready for all of your fun. This could be getting your bikes out of your car, collecting fire wood, setting up outdoor games, or other items. If you have kids that are antsy, learn about our top things to do here.
Have Fun!
Next comes the fun part, make lunch, dinner, grab a soda or drink of choice and relax, the hard part is done and you are ready to have a fun time camping with your friends, family, and other fellow campers.
Get MORE out of The Savvy Campers Directly to your Inbox!
Be the first to be notified about FREE tips, hints, coupon codes, and email-exclusive information. All for FREE!